Huatulco RECOMMENDATIONS See all
Adventure and Outdoor Activities in Huatulco
By Viator, June 2016
No reviews, be the first!
Huatulco is home to plenty of beautiful beaches and sandy bays. But there's more to this destination than its quiet shores and clear waters. Huatulco is ripe with outdoor adventure and ecotourism options ideal for travelers looking to experience the culture of this community by getting outside.
Finca La Gloria
This family-owned coffee plantation is known for its fertile green farms and fantastical butterfly sanctuary. Travelers can tour the working facility in the heart of a Mexican jungle and learn about the process of turning fresh berries into a cup of one of the most-loved morning beverages. 
Huatulco National Park
Extensive conservation efforts have preserved the ecosystems of the tropical forests, mangroves, coral reefs and wetlands that make up this park. Whether it's charting a boat to snorkel, dive or fish in the pristine surrounding waters or lounging on one of the deserted beaches, Huatulco National Park offers visitors a chance to experience the country as it used to be. 
Rio Copalita
Spend a day rafting Class 3 and 4 rapids on the Alemania section of this famous river, or while away the morning hours on a more leisurely ride between Rio Copalita and the sea at La Bocana. This relaxing stretch is perfect for families, small children and the less adventurous. Land lovers can also horseback ride along the shores, climb, repel and hike through the land surrounding Rio Copalita. 
Chachacual Bay
Chachacual Bay is home to world-class snorkeling and impressive birdlife, but it is also home to one of the area's most-loved beaches—Playa La India. A diverse community of tropical fish and warm open waters make it a destination for snorkeling and diving. Strong currents can make for sometimes challenging conditions, so travelers agree its best left to strong swimmers.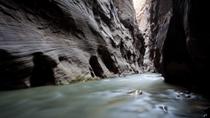 1 Review
During your Huatulco vacation, take a break from the beach and enjoy a little outdoor adventure on a canyoneering tour. Canyoneering (also known as canyoning) ... Read more
Location: Huatulco, Oaxaca
Duration: 5 hours (approx.)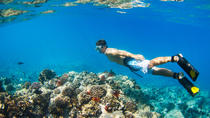 6 Reviews
Experience the natural wonders of Bahías de Huatulco National Park, traveling by boat along a series of beautiful bays strung along the Pacific coast. ... Read more
Location: Huatulco, Oaxaca
Duration: 7 hours (approx.)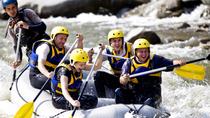 Spend a day in Huatulco experiencing the beauty of the Copalita River! On this river-rafting adventure, travel down the river by raft, and learn about the ... Read more
Location: Huatulco, Oaxaca
Duration: 5 hours (approx.)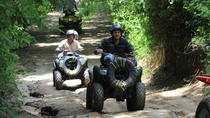 1 Review
Travel through the Huatulco jungle aboard a single or double ATV on this half-day adventure. Your all-terrain vehicle takes you off the beaten track for 2 ... Read more
Location: Huatulco, Oaxaca
Duration: 4 hours (approx.)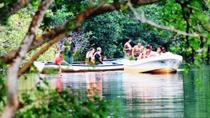 6 Reviews
Enjoy a full day of fun on this eco-tour from Huatulco! Your friendly local guide takes you to the village of Ventanilla, where you'll ride a boat through the ... Read more
Location: Huatulco, Oaxaca
Duration: 7 hours (approx.)
Experience an unforgettable adventure snorkeling in the crystal clear and clean beaches of Huatulco Bays.
Location: Santa María Huatulco, Oaxaca
Duration: 3 hours (approx.)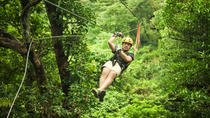 Spend a morning zooming through the jungle on a zipline canopy tour in Huatulco! The perfect adrenaline-pumping way to start your day, the zipline course at ... Read more
Location: Huatulco, Oaxaca
Duration: 2 hours (approx.)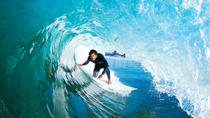 Make the most of your Huatulco vacation by getting out on the water and learning how to surf! In addition to simply being fun, the experience allows you to ... Read more
Location: Huatulco, Oaxaca
Duration: 4 hours (approx.)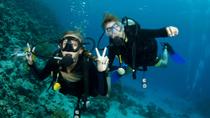 Experience the underwater beauty of the Pacific with a scuba adventure off the coast of Huatulco National Park, known for its nine beautiful bays. Admire the ... Read more
Location: Huatulco, Oaxaca
Duration: 4 hours (approx.)