Avid divers and eager snorkelers typically venture to the Caribbean side of Mexico, where Palancar reef off the Mayan Riviera is a destination for underwater wonder. But those in the know say warm, clear waters with excellent and diverse sea life make the less-visited bays of Huatulco ripe for exploring.
With nine bays in relatively close proximity, divers can opt to spend the day at just one, or a week experiencing many. Here's our list of the area's best bays for travelers looking to venture off the shores and out into the water.
Cacaluta Island
Sheltered inlets provide the perfect habitat for sea turtles, making this one of the few destinations in Huatulco for spotting these gentle giants. Snorkelers say there are minimal currents here, but the area is well protected from major waves.
Playa Maguey
The coral plates near this quarter-mile stretch of beach located southwest of Santa Cruz are filled with tropical fish and unique ocean life. Big waves can sometimes make snorkeling close to shore a challenge, but divers love the nearby underwater cave and the fact there are plenty of popular watering holes for post-dive drinks.
Chachacual
This tiny bay is home to world-class snorkeling and one of the area's most-loved beaches—Playa La India. Its diverse tropical fish community and warm open waters make it a hot spot for snorkeling and diving. Strong currents can make for sometimes challenging conditions, so travelers agree it's a destination best left to strong swimmers.
La Entrenga
Snorkelers don't have to venture far from shore to find the epic schools of fish typical of much deeper waters. And while divers may not find the vibrant colors that underwater Cozumel is known for, they will discover rich biodiversity in the smaller sea creatures that make diving here unique. Exceptionally lucky travelers may even get up close with one of the giant rays that lurk along the ocean floor.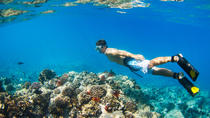 7 Reviews
Experience the natural wonders of Bahías de Huatulco National Park, traveling by boat along a series of beautiful bays strung along the Pacific coast. ... Read more
Location: Huatulco, Oaxaca
Duration: 7 hours (approx.)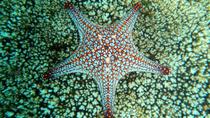 Experience an unforgettable adventure snorkeling in the crystal clear and clean beaches of Huatulco Bays.
Location: Santa María Huatulco, Oaxaca
Duration: 3 hours (approx.)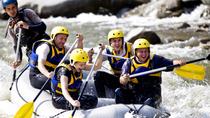 1 Review
Spend a day in Huatulco experiencing the beauty of the Copalita River! On this river-rafting adventure, travel down the river by raft, and learn about the ... Read more
Location: Huatulco, Oaxaca
Duration: Varies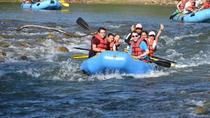 1 Review
Raft down river Copalita and learn about the habitat of birds such as the orioles and 90 other species.
Location: Huatulco, Oaxaca
Duration: 3 hours (approx.)