Exploring Ibiza by Scooter
By Viator, February 2018
When it comes to getting around Ibiza, the transport of choice is definitely the scooter -- after all, who wants to be cooped up in a car when you could be feeling the breeze flow through your hair, catching whiffs and sounds of the sea? Exactly. Here are a few of the best ways to see Ibiza by scooter.

Ibiza by Guide
Fit in your scootering and sightseeing by going on a guided scooter tour of Ibiza. With a knowledgeable guide at your side, you can zigzag through Ibiza's medieval quarter Dalt Vila – a UNESCO World Heritage site -- before heading to the nearby village of Sa Canal, and even Las Salinas Beach.

Alternatively, you can opt for other scooter adventures, such as a guided tour of the countryside, during which you'll break away from the shoreline and hit rural roads and villages before heading back to town for a paella lunch.

Beach lovers, on the other hand, can explore the island's shores during an Ibiza Beach Sunset Scooter Tour. Ride along the coastline, relax in the sand, and watch the sunset over neighboring Es Vedra Island.

Ibiza Freestyle
If all this freedom of the open road has you feeling a little more adventurous, then navigate on your own by going on an Independent Scooter Tour with Rental. From the coast to the countryside to Ibiza Town's historic quarter, only the shorelines will be your limit as you traverse the island.

Formentera
Your scooter escape doesn't have to end at Ibiza, either. Just a short ferry ride away and you could be on the neighboring island of Formentera, famous for its bohemian lifestyle and paradisiacal beaches. Given its remoteness, expect the two-wheeled transport to be even more popular in these parts than on Ibiza. The best way to get in on the fun is to rent your very own scooter, which means you have access to more of the island's beaches, and can avoid having to hunt down limited parking.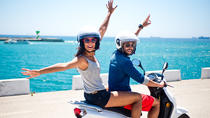 4 Reviews
Visit the island of Ibiza on two wheels with the coolest scooter rental at unbeatable prices and discover incredible places! In Cooltra you will find all the ... Read more
Location: Ibiza, Spain
Duration: Flexible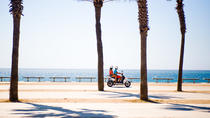 Come and discover the Spanish caribbeans with the coolest scooter rentals at the best prices and discover the most incredible beaches you have ever seen! Are ... Read more
Location: Ibiza, Spain
Duration: Flexible