Hekla Volcano Tours
Climbed for the first time by two naturalists in 1750, Hekla had been the topic of many speculations ever since the year 874; but what Europeans believed was one of the two gateways to hell turned out to be Iceland's most active volcano. Hiking Hekla is one of the most popular things to do in Iceland, thanks to magnificent views of the Fjallbak Mountains and Vatnajökull glacier.
Hekla has the shape of an overturned boat. Its tip is covered in craters and its flanks are blanketed by thick layers of lava flow and ash from previous eruptions. In fact, Hekla has produced one of the largest volumes of lava in the world over the last millennium, at around 8 cubic kilometers. Hekla is 1491-meters high and is the most active part of a much larger volcanic drift. Because of its age, size and frequent eruptions, Hekla has covered a rather large portion of Iceland in powdered dust which, nowadays, is used to date eruptions of other volcanoes.
Practical Info
Hekla Volcano is located in southwestern Iceland, roughly 120 kilometers from Reykjavik. The visitor center in Leirubakki (accessible via routes 1 and 26) houses a hotel, a restaurant, and a multimedia exhibition the history of Iceland and Hekla's sometimes tragic influence on human development in the region. It is open year-round from 10AM to 9PM. There are also several day trips leaving from Reykjavik. The hike to the top of Hekla and back takes roughly 8 hours.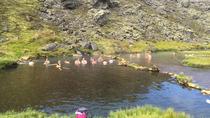 1 Review
Hekla volcano is one of Iceland's most extraordinary geological wonders. When you join this 9-hour 4X4 superjeep tour, it will give you a chance to walk on ... Read more
Location: Reykjavik, Iceland
Duration: 8 hours (approx.)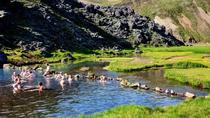 Landmannalaugar nature reserve is the hidden gem in the highlands of Iceland along with Hekla volcano. Natural hot spring to bathe in all year around. A ... Read more
Location: Reykjavik, Iceland
Duration: Flexible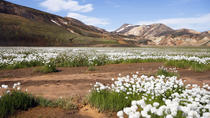 30 Reviews
The wonder of Southern Iceland! This journey takes you through the beautiful countryside of southern Iceland and the central highlands. See colorful mountains ... Read more
Location: Reykjavik, Iceland
Duration: 11 hours (approx.)
Available - All year - every day as a private tour.Except in spring when the area is closed,  normally from mid May to mid June. Pick up at 08.00 Duration 9-10 ... Read more
Location: Reykjavík, Iceland
Duration: 9 to 11 hrs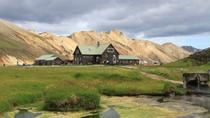 1 Review
Super Jeep trip - Landmannalaugar and Hekla volcano, Explosion craters, Ash wasteland, Natural geothermal pool dip.
Location: Reykjavík, Iceland
Duration: 9 hours (approx.)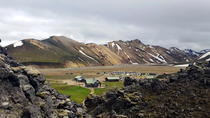 Enjoy this private day trip from Reykjavik and take in the magical beauty of Icelandic highlands and lowlands, stopping by natural wonders en-route to ... Read more
Location: Reykjavik, Iceland
Duration: 10 hours (approx.)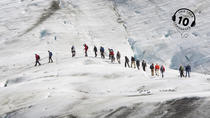 2 Reviews
Discover the natural beauty of Iceland on this 11-hour south coast glacier tour from Reykjavik. Delve into the Icelandic countryside and listen as your ... Read more
Location: Reykjavik, Iceland
Duration: 11 hours (approx.)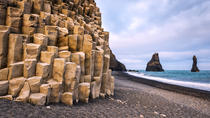 57 Reviews
Explore beaches, glaciers, and volcanoes along the south coast of Iceland on this 11-hour day trip from Reykjavik. Travel along the southern shores of Iceland ... Read more
Location: Reykjavik, Iceland
Duration: 11 hours (approx.)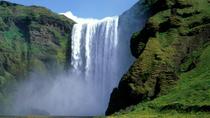 6 Reviews
Your small-group full-day tour will take you through the ever-changing landscape of south Iceland to discover some of the country's biggest volcanoes, glaciers ... Read more
Location: Reykjavik, Iceland
Duration: 10 hours (approx.)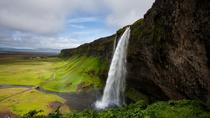 191 Reviews
Discover the dramatic black-sand beach of Reynisfjara, thundering waterfalls of Seljalandsfoss and Skogafoss waterfalls and join your certified glacier guide ... Read more
Location: Reykjavik, Iceland
Duration: 12 hours (approx.)