Innsbruck RECOMMENDATIONS See all
Tyrolean Traditions
By Viator, April 2013
No reviews, be the first!
Wrapped within her isolated mountain valleys, Tyrol remained remote from other regions of Austria for centuries, and so developed a strong sense of regional identity – with its own culture, politics and customs. Regional pride still holds strong; traditional costume, music, and all manners of unique and wonderful traditions are firmly adhered to throughout the year.


National costume is worn at every opportunity; wide-brimmed black hats adorned with flowers plus white blouse and embroidered dirndl skirts for the women, leiderhosen and loden jackets topped with jaunty caps for the men. Music and dancing runs deep through every Tyrolean vein, and celebrations always include thigh-thumping, shoe-slapping dances accompanied by displays of zither and alpenhorn music as well as yodeling.
Tyrolean cuisine boasts knödeln (dumplings) stuffed with vegetables or pork, gröstl (fried onion, pork or veal and potato cakes), schlipfkrapfen (ravioli stuffed with pork and potato), and kaiserschmarrn (thick pancakes smeared with stewed fruit or jam).
Largely a rural people, Tyroleans are dependent on their livestock for food, clothes, and income; they celebrate the return of cows and sheep from their traditional Alpine pastures in early September by decorating them with flowers and wreathes, and parading through the streets.
Winter brings charmingly old-fashioned Christmas markets to Innsbruck and December sees spectacular pagan Perchten processions take place, in which men wearing terrifying fanged demon masks rampage through the streets to rid them of evil spirits.
Similar superstitions see the traditional lighting of fires on Tyrolean mountainsides to appease the gods. Since the rebellion against Napoleon in the 18th century, these fires often take the shape of a peace dove or cross and they blaze on hillsides all around Innsbruck on the second Sunday after Corpus Christi in early summer.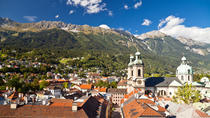 7 Reviews
Combine your love of food and your passion for culture with this Innsbruck sightseeing package. With your 48-hour Innsbruck Card, enjoy free public transport ... Read more
Location: Innsbruck, Austria
Duration: Varies