Iquitos is called Peru's "Gateway to the Amazon," a destination for visitors to this diverse nation who wish to experience the rainforest, as well as the Andes and Pacific Coast. While not as large, popular, or as accessible as Manaus, Brazil, the more famous Gateway to the Amazon, many travelers prefer Iquitos, basking in the faded glamour of its rubber-boom era architectural frills and more exotic, isolated feel. With no road access to the outside world, you'll probably arrive here by plane. But the traditional route to Iquitos is by boat.
The city lies right on the Amazon (unlike Manaus) and is surrounded with pristine rainforest marbled by several different rivers, canos (natural canals) and protected areas to explore. There are dozens of options, from motorized canoes that can be rented at any of several docks, to all-inclusive, multiple-day tours that include overnights at jungle lodges.
All are different, but most Amazon cruises include certain activities: Visiting indigenous villages, where you might enjoy blow gun demonstrations, face painting with bright-red achiote pods, or shopping for jewelry made of seeds or smooth tagua, a vegetable that resembles ivory; jungle hikes where you could see all manner of wildlife; night-time canoe excursions to view caimans; piranha fishing in still, brackish ponds (allowing you to turn the tables and eat them!); and looking for the famed pink river dolphins.
Most operators require a minimum number of people, and prices drop as numbers increase. Solo travelers will usually have luck asking operators about upcoming group tours that they can join. Keep in mind that onboard accommodations are rarely plush and shade can be in short supply; bring sunscreen, a wide-brimmed hat and DEET-based insect repellant to make your trip a bit more comfortable.
Day Trips
Several day trips explore the Amazon and Nanay Rivers, both bordering Iquitos. While itineraries vary, these generally include a short jungle hike, a visit to a nearby indigenous village and/or a stop at one of the region's remarkable animal sanctuaries. While many of these, such as the Pilpintuwasi Butterfly Farm and Animal Orphanage, Isla de los Monos (Monkey Island) and Fundo Pedrito Caiman Sanctuary are worthwhile organizations, unscrupulous operators may take you to private wildlife displays that overcharge tourists and mistreat animals; feel free to refuse to patronize such establishments.
Overnights and Multiple-Day Tours
If you have the time and money, the most memorable excursions from Iquitos are the multiple-day tours into the rainforest, staying at one or several remote jungle lodges along the Amazon and its tributaries. The classic trek takes you into enormous Pacaya Samiria National Reserve, which begins about 90km (56mi) south of Iquitos, at the confluence of the Rio Ucayali and Rio Maranon—where the Amazon is born. Assorted operators take different routes through the almost endless waterways, so even in high season you're unlikely to see another tour group. More adventurous souls could book trips into the even less visited Reserva Nacional Alpahuayo Mishana, a rare white-sand rainforest along the Rio Nanay.
Down the Amazon
From Iquitos, so close to the mighty Amazon's birthplace, it's possible to book trips to Leticia, Colombia (400km/250mi; four days), or even Manaus, Brazil (1400km/800mi; ten days), both with airports if you'd rather fly back. You could even travel by boat all the way to the Atlantic, a scenic 3,360km (2,083mi) through the endless rainforests. Public boats also make these trips, perfect for budget travelers who don't mind fighting for floorspace to sleep at night, rather than relaxing in plush jungle lodges along the way.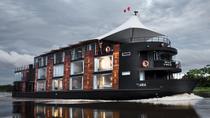 1 Review
Explore the Amazon on this once-in-a-lifetime, four-day luxury river cruise. Your all-inclusive Amazon cruise is filled with fun, adventure and relaxation. See ... Read more
Location: Iquitos, Peru
Duration: 4 days (approx.)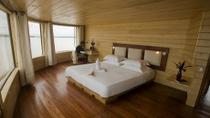 1 Review
Discover the Amazon Rainforest on this exciting multi-day adventure from Iquitos! Cruise into the heart of the Peruvian Amazon aboard a luxurious riverboat for ... Read more
Location: Iquitos, Peru
Duration: 4 days (approx.)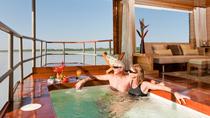 1 Review
Embark on the journey of a lifetime and cruise deep into the heart of the Peruvian Amazon aboard the luxurious Delfin II . Your four-day all-inclusive Amazon ... Read more
Location: Iquitos, Peru
Duration: 4 days (approx.)