More than 200 markets take place every week in various neighborhoods around Istanbul, offering fresh produce, textiles, crafts, kitchenware, souvenirs and really almost anything you can imagine. Not only do these local markets offer a glimpse into the vibrancy and color of a particular neighborhood, they also provide a great opportunity to interact with locals as well as offer some really good bargains.

The two most obvious markets to visit are the Grand Bazaar and the nearby Egyptian Spice Market. The Grand Bazaar first opened its doors in 1461, making it one of the oldest (and largest) covered markets in the world, with over 3,000 shops. Every day somewhere between 250,000 and 500,000 visitors make their way through its covered streets, a good majority of them tourists. The Grand Bazaar is famous for its leather goods, gold jewelry, silverware, antiques, copperware, carpets and souvenirs, among innumerable other goods. The Egyptian Spice Market, meanwhile, is a great place to shop for spices, dried fruit and many varieties of Turkish Delight ('lokum').

Other, less-touristy markets include the Çarşamba Pazarı (Wednesday market) in Fatih, one of the oldest and biggest markets in the city, featuring around 1,300 vendors, 4,800 stands and about 2,500 peddlers spread around the historic streets of Fatih. It is an esteemed market among locals, where you can find almost anything. The Wednesday Market in Yeşilköy is another highly respected market, known for its relatively greener and upper class setting. The market covers 12,000 square meters and contains over 2,000 stalls, where you can find an array of high quality products. The Kadıköy market is another traditional market that takes place on Tuesdays and Fridays in Kadıköy, on the Asian side of Istanbul.

By far the most atmospheric market, however, takes place every Sunday in the Tarlabaşı neighborhood, a short walk away from Istiklal Caddesi and Taksim Square. Every Sunday this lower class neighborhood, composed mostly of minorities, transforms into a bustling singsong Anatolian village. It's a great place to shop for fresh produce, or to spend an hour or two strolling around in a world that feels much different than gentrified Istiklal one block away.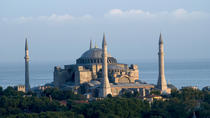 1209 Reviews
Visit six top Istanbul attractions in one day on a full-day sightseeing tour of the city! The action-packed day includes a comprehensive tour of the historical ... Read more
Location: Istanbul, Turkey
Duration: 8 hours (approx.)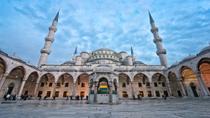 191 Reviews
Take a hassle-free tour of Istanbul's most famous attractions with your own private guide to lead the way. You'll enjoy personalized attention on your private ... Read more
Location: Istanbul, Turkey
Duration: 8 hours (approx.)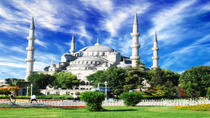 31 Reviews
See all the top Istanbul attractions in one day on this small-group walking tour, led by an expert local guide. Focusing on the Sultanahmet area of this ... Read more
Location: Istanbul, Turkey
Duration: 8 hours (approx.)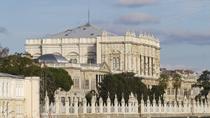 15 Reviews
Discover Istanbul's artistic and historical gems on a half-day city tour with luxury transport by Mercedes minivan included! With a local guide, tour the ... Read more
Location: Istanbul, Turkey
Duration: 4 hours (approx.)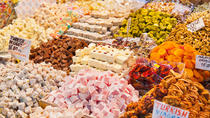 5 Reviews
Discover Istanbul's tantalizing street eats on a 3.5-hour tour of the city's street food scene! Led by a food-loving guide, visit the Spice Bazaar to try local ... Read more
Location: Istanbul, Turkey
Duration: 3 hours 30 minutes (approx.)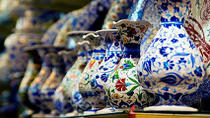 22 Reviews
Discover Imperial Istanbul on this private half-day sightseeing tour. Visit Hagia Sophia, which is today one of the most magnificent museums in the world and ... Read more
Location: Istanbul, Turkey
Duration: 4 hours (approx.)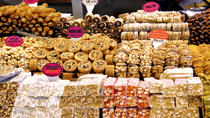 12 Reviews
Get an insider's look at Istanbul's food culture as you follow your local guide on a small-group walking tour. Visit a variety of traditional shops, ... Read more
Location: Istanbul, Turkey
Duration: 4 hours (approx.)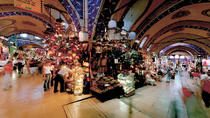 19 Reviews
Sharpen up your bargaining skills while exploring Istanbul's Grand Bazaar on this must-do 3.5-hour walking tour. As one the world's largest covered markets, ... Read more
Location: Istanbul, Turkey
Duration: 3 hours 30 minutes (approx.)
3 Reviews
Sightsee in Istanbul and save the pennies, too, on this exciting Super Saver that combines a market visit and cruise with an evening folklore show and dinner! ... Read more
Location: Istanbul, Turkey
Duration: 1 day (approx.)