In recent years a number of historic hamams – or Turkish baths - around Istanbul, including several designed by the master architect Mimar Sinan, have been renovated and now provide a Turkish bath experience rivaling what it may have been like at the height of the Ottoman Empire.

This unique experience can be expensive, however. For a deluxe package in one of the city's finest historic hamams, one that includes a traditional body scrub, oil massage and access to the facilities all day, you may pay 200-300 lira. If you bathe yourself and bring your own soap, shampoo and towel, you could pay as low as 35 lira, but this is not recommended, especially if it's your first time in a hamam. A better option for first-timers is a bath and traditional massage, which should cost around 55 lira.

Not all nice hamams are this pricey. Moderate and even budget hamams exist, but you often get what you pay for. The advantages of going to one of the luxury hamams is that you'll have a better hamam experience and the pleasure of enjoying the bath's historic ambience.

There are many historical Turkish baths in Istanbul, but here are a few worth considering.

Çemberlitaş Hamam - Designed by the famous Ottoman architect Mimar Sinan in 1584, Çemberlitaş is one of the oldest of Istanbul's hamams and an architectural gem, attracting not only travelers and locals, but researchers, photographers and architecture students from around the world. Try to plan your visit around noon on a sunny day in order to get the full experience of the sunlight shafting through the holes of the dome ceiling. The hamam is located in Çemberlitaş, not far from the Aya Sofia in Sultanahmet.

Ayasofya Hürrem Sultan Hamamı - Another work by the Ottoman master architect Mimar Sinan, this 500-year-old hamam has been beautifully restored and offers premium service at premium prices.

Kılıç Ali Paşa Hamam - Named after Kilic Ali Pasa, a slave who became an admiral in the Ottoman Naval Army, this Turkish bath was also built by Mimar Sinan in the 1500s. Beautifully renovated and reopened in 2012, it is one of the fanciest hamams in Istanbul, offering an excellent experience at deluxe prices. It is located in Tophane.

Haseki Hürrem Sultan Hamam - Yet another magnificent structure by Sinan, the Haseki Hurrem Sultan Hamam was built in 1556 on the order of the Hurrem Sultan Roxelana, wife of Suleiman the Magnificent. It was in use until 1910, when it was closed down and used for various purposes, including as a prison and a storage for paper and oil. After extensive renovations, it is now one of the fanciest hamams in the city, serving customers with gold-plated bath bowls and silk and cotton bath wraps. It is located near the Blue Mosque in Sultanahmet.

Cağaloğlu Hamam - One of the city's most spectacular hamams, the steam rooms here are lavishly decorated with high-domed ceilings, internal marble fountains and tulip tiles. Constructed in 1741, it is listed in Patricia Schultz's '1,000 places to see before you die'. Çemberlitaş hamam is located on the Yerebatan Street close to Grand Bazaar.

Galatasaray Hamam - Located near the famous Galatasaray highschool in Beyoğlu, the historic Galatasaray Hamam is one of the most famous Turkish baths in the city, popular with both tourists and locals.

Çinili Hamam - Çinili hamam was built by Sinan for Barbaros Hayreddin Pasha, a legendary admiral in the Ottoman Naval Army (some locals refer to it as the Captain Pasha Hamam). Due to fires and burglars, the hamam has lost many of its famous tiles, and although it doesn't have that same charm that is used to, it's a great bath to visit if you're interested in hamas that still serve local communities. It can be found on Itfaiye Street in Fatih.

Sofular Hamamı - If you're after a local experience, consider Sofular Hamamı in Fatih. This historic 15th-century bath offers an authentic neighborhood hamam experience at budget prices. You could be the only foreigner there, and you'll pay about half the price that touristy hamams charge.

Neighborhood Hamams - Every district in Istanbul has its own hamam, usually not very touristy, less ornate and far cheaper than the more famous hamams. They may not have the history and atmosphere you're looking for, but if you're short on cash and looking for a hamam experience, ask your hotel for a nearby, local hamam recommendation.

Hotels with Hamams - A number of hotels have their own private hamams open to guests. Some even have mini-hamams in their suites so you can have a Turkish bath without leaving your room. The Four Seasons on the Bosphorus offers an indulgent and expensive take on the traditional hamam experience, while Hotel Aziyadé has its own private hamam for guests. Hotel Niles Suites and Dersaadet Oteli have beautiful hamam-style private bathrooms.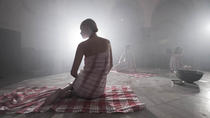 Enjoy the Hammam as it have been done for centuries and feel like a Sultan in the most luxurious Turkish Bath.Turkish baths are a great escape for all seasons. ... Read more
Location: Istanbul, Turkey
Duration: 30 minutes (approx.)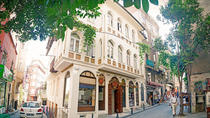 Turkish Bath is a cleaning method which has been used since the initial years of Ottoman Empire. Your skin gets softer as the result of perspiration in the ... Read more
Location: Istanbul, Turkey
Duration: 1 to 2 hrs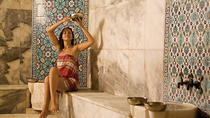 Experience a traditional Turkish bath while you visit Istanbul. This package that takes approximately 2 hours.
Location: Istanbul, Turkey
Duration: 2 hours (approx.)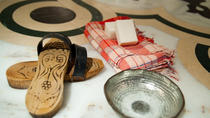 12 Reviews
Deep cleanse your body and mind during a 2-hour traditional Turkish bath experience at Istanbul's Cagaloglu Hamami, a gorgeous 18th-century bath house. As ... Read more
Location: Istanbul, Turkey
Duration: 4 hours (approx.)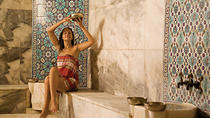 Experience a traditional Turkish bath while you visit Istanbul with free hotel pick-up and drop-off.
Location: Istanbul, Turkey
Duration: 3 hours (approx.)