Istanbul also offers a wide array of regional and specialty Turkish dishes. Here are a few that you should definitely sample, many of which can be found on the street or on a
Turkish food tour
.
Kebabs
- Do Turkish kebabs really need an introduction? Kebab dishes are popular throughout the Western world, particularly in Europe due to the large number of Turkish immigrants. These delicate chunks of meat are roasted or grilled on a skewer or spit and are served in a number of ways throughout Istanbul, the most popular being on a half loaf of bread or in a wrap mixed with veggies and french fries.
Ciğ Köfte
- Ciğ Köfte (pronounced chee kooftey) literally means 'raw meatball'. In the past these were made with raw minced beef or lamb meat. Although still prevalent in the southeast, raw meatballs are pretty much outlawed in western Turkey. The one's you will be encountering are made of bulgur wheat, onions, scallions, parsley, green pepper and probably tomato sauce, served on a sheath of lettuce with a lemon slice.
Midye
- You will find little pyramids of midye (mussels) on the streets all around Istanbul. Perennially popular, they are an essential element of Turkish food culture and served fried on skewers and eaten with garlic sauce, or (even better) served stuffed with spiced rice, pine nuts and sometimes raisins and then served to you by a man who personally squeezes a jet of lemon juice inside.
Hamsi
- Anchovies, or 'hamsi,' are little fish roughly the size of a finger.They are served fried and whole (eyeballs, tailfin, everything) in a generous pile on a platter, or mixed with rice in a dish called "hamsilipilav" (sardine rice). The best come from the Black Sea during the fall, a.k.a. 'hamsi season'.
Kokoreç
- Originally a dish brought by nomadic Turks from Central Asia, kokoreç essentially consists of lamb or goat intestines wrapped in seasoned offal and stuffed with minced internal organs, which is then wrapped around a skewer and grilled. The stuffed intestines are then chopped into little pieces and seasoned with lemon, olive oil, oregano,salt and pepper, and served inside flat bread or on a plate with pickles and garnish. It may not sound appetizing, but it's quite good.
Lahmacun
- Also known as 'Turkish pizza, the lahmacun is a soft oval of thin, slightly crisped dough covered with spicy sauce and mincemeat. It is served with greens and a lemon slice. You basically pile all the garnish you desire on top, roll it up like a burrito, and chow down.
Sarma
- Sarmas, or 'dolmas' (both terms mean 'a stuffed thing'), refer to a variety of finger foods that feature some sort of filling inside some sort of organic wrap. This includes stuffed capsicum, stuffed eggplant,etc. However, the 'sarma' or 'dolma' generally applies to stuffed grape or cabbage leaves. These look like stubby, wet, loosely-rolled green or transparent cigars. They are addictingly delicious. They come in two main varieties: 1) "kıyma," which is stuffed with mince meat, onion, pine nuts, spices rice and olive oil, and then served warm with yogurt; and 2) the same thing without meat, with some extra herbs and spices.
Mantı
- Mantı are basically miniature dumplings. They are filled with some variety of minced meat or potato, which is then folded up in dough and either boiled or steamed and covered with a dollop of yogurt,melted butter and garlic sauce. Mantı originated in the Turkic homelands near modern Mongolia and spread throughout Central Asia by migrating nomads, who could carry them frozen or dried and then boil them over a camp fire.
Baklava
- These rich little pastries are formed of thin sheets of unleavened flour dough filled with crushed nuts and syrup or honey. They are a sweet dish found in many varieties throughout the lands of the former Ottoman Empire. The best, however, is said to be the pistachio baklava of Gaziantep, which can be found in select baklava shops throughout Istanbul.
Mezes
- Mezes are little dishes similar to Spanish tapas. They include favorites such as eggplant dip, halloumi, calamari, hummus, hot pepper paste with walnuts, kalamata olives, pilaki and octopus, and countless others. The best place to eat mezes is in a meyane, accompanied by friends and a glass of raki.
The best way to experience this great variety of Turkish cuisine would be to take a
food tour of Istanbul
.
Contributed by David Jennings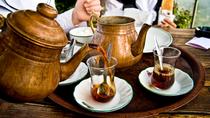 54 Reviews
Visit a typical Istanbul family household for a home-cooked meal, and then explore the backstreets of Sultanahmet with a guide, meeting locals and experiencing ... Read more
Location: Istanbul, Turkey
Duration: 3 hours 30 minutes (approx.)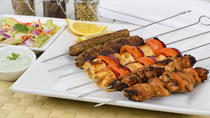 54 Reviews
Discover Istanbul's culinary delights on a 5-hour evening food tour of the capital. Led by an expert local guide, your tour includes visit to all the food ... Read more
Location: Istanbul, Turkey
Duration: 5 hours (approx.)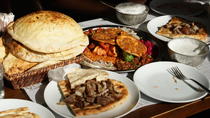 Enjoy a culinary walk through Istanbul with a professional guide. You will visit local restaurants and markets along way, and experience the back streets of ... Read more
Location: Istanbul, Turkey
Duration: 8 hours (approx.)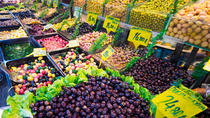 2 Reviews
See Istanbul in the most delicious way: through your taste buds. Traverse the stunning, hilly city on this 5-hour guided tour, eating your way through street ... Read more
Location: Istanbul, Turkey
Duration: 4 hours 30 minutes (approx.)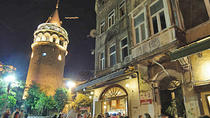 Discover Istanbul by night on this small-group food and wine walking tour led by a gourmet guide. Explore the cobbled streets, historic alleyways, and vibrant ... Read more
Location: Istanbul, Turkey
Duration: 4 hours (approx.)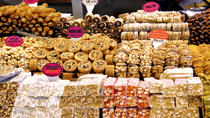 12 Reviews
Get an insider's look at Istanbul's food culture as you follow your local guide on a small-group walking tour. Visit a variety of traditional shops, ... Read more
Location: Istanbul, Turkey
Duration: 4 hours (approx.)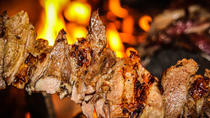 Enjoy a culinary journey through the city of Istanbul on this 4-hour tour. Spend the evening going to four local eateries to sample such classics as Cig Kofte, ... Read more
Location: Istanbul, Turkey
Duration: 4 hours (approx.)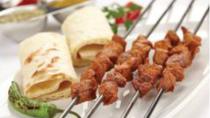 This food and culture tour is one of the most popular daily Istanbul tours. Be ready for some amazing and unforgettable moments as you discover Istanbul along ... Read more
Location: Istanbul, Turkey
Duration: 14 hours (approx.)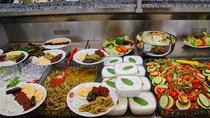 Savor the flavors of Istanbul on this 8-hour walking tour through some of the city's most delicious neighborhoods. Travel through the city on foot, via public ... Read more
Location: Istanbul, Turkey
Duration: 8 hours (approx.)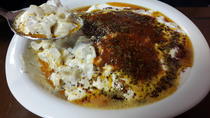 Do you want to learn the secrets of making Turkish traditional recipe, Mantı (Turkish Dumplings)? Turkish people love the home cooked , mama style Manti. ... Read more
Location: Istanbul, Turkey
Duration: 3 hours (approx.)