No reviews, be the first!
Address:

Via V Emanuele 11, n 3, Messina, Sicily 98100, Italy
Messina Cruise Port
Messina is the 'door of Sicily'. A busy port town located on the narrow Strait of Messina, famous for its unruly waters and conflicting currents, it is the closest city to mainland Italy and often a first port of call for travelers from other parts of Europe.

The city has endured many tests over the centuries: revolt against the Spanish in 1678, which burnt the city to the ground; earthquakes in 1783 and 1908 (this one sank the shore half a meter and killed 80,000 people); and World War II bombing in 1943. Also, the famous volcano Mt Etna smokes and breathes daily in the hills behind the city. Despite all this, Messina thrives as a noisy, crowded port city.  

How to Get to Messina

The cruise port is right in the heart of downtown Messina and it is easy to walk straight off the ship and into the Piazza del Duomo, the heart of the old town area and the part you'll want to explore. If you choose to go further afield, taxis are easily available or you can pick up pre-booked rental cars here, too.

One Day in Messina

While Messina has a few highlights – the Duomo and the world's largest astronomical clock – most people opt to head out of town to one of the nearby more interesting attractions. Taormina is a pretty little coastal town like those beauties of the Amalfi Coast, with great beaches and excellent shopping. It is also a wonderfully preserved medieval town, a major Byzantine gem of the 9th century. The Greek Theatre there is not to be missed, an outdoor amphitheater by the sea.

The other place to visit is Mt Etna. Surrounded by the largest wilderness area in Sicily, Parco dell'Etna, the volcano is the most active in the world, having erupted every year for the past ten. Most cruises offer day excursions or you can hire a car and travel independently. Taxis will take you but will not be cheap. The local bus and train services are slow and unreliable for meeting sailing times.

Port Information

The language in Messina is Italian and despite its port status, English is not commonly spoken. The main tourist hubs will be more English-friendly but be prepared to smile, nod and gesture a lot. The currency is euro.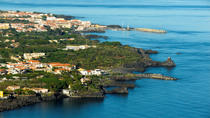 Enjoy a full-day private shore excursion from the Messina port to the picturesque Cyclops Riviera, encompassing the Sicilian fishing villages of Catania and ... Read more
Location: Messina, Italy
Duration: 9 hours (approx.)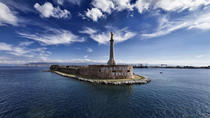 2 Reviews
While you're in port in Messina, take a full-day private shore excursion to Taormina and Mt Etna. Take in scenic views as your private driver takes you along ... Read more
Location: Messina, Italy
Duration: 9 hours (approx.)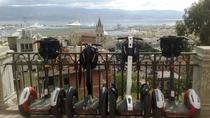 See the sights of Messina on a self-balancing electric Segway on this exciting 3-hour shore excursion! After leaving the Port of Messina, glide around the wide ... Read more
Location: Messina, Italy
Duration: 3 hours (approx.)