Top Cooking Classes in Rome
By Viator, March 2016
Italy may be littered with important art and medieval ruins, but it's the food (and
vino
) that makes you fall in love with the place. Pasta, pizza, pinot grigio – bring on the carbs! Walking through vast cathedrals and across expansive
piazzas
is going to burn it all off anyway (just keep telling yourself that), so go ahead. Finish that lasagna. Who cares if you return with a few extra pounds but chances are with all your walking it will equal out. So do Italy right, and savor every last bite.
While eating your way through the country is a perfectly acceptable way to spend your time, learning how to cook the food yourself is even better. Take an Italian cooking class so you can bring Italy into your own kitchen, impressing your friends with the smells, tastes and pleasures that one can only find in Italia.
With the
Rome Walking Tour and Cooking Class
, combine a lesson in handmade pasta with a little exercise and history. A walk around Rome's famous sights like the
Pantheon
and
Trevi Fountain
will give you the appetite to eat the plentiful lunch you're about to make.
To truly master the art of Italian cooking, you must also learn the art of choosing fresh ingredients. The
Small-Group Cooking Lesson in Rome
and the
Florence Cooking Course with Local Market Visit
will give you the foundation you need to become an expert. Visit a local market with a guide and be introduced to regional food producers as you learn to distinguish high-quality ingredients and try your hand at bargaining for the perfect tomato (perhaps don't try this part at your local grocery store.)
Of course, no Italian meal is complete without the wine. Get a lesson in pairing your favorite dishes with the perfect glass of red or white during the
Tuscan Cooking Class and Dinner in Florence
or during the
Small-Group Cooking Class in the Roman Countryside
.
Whichever class (or classes) you choose, get ready to stuff your own ravioli, and then stuff yourself. You might want to save room in your suitcase for a bigger pair of jeans.
-Viator Team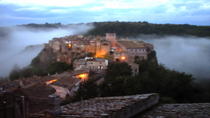 157 Reviews
Calling all Italian food lovers! If you're a gourmand, cooking aficionado or a fan of homemade cuisine, this intimate, full-day cooking tour from Rome is for ... Read more
Location: Rome, Italy
Duration: 7 hours (approx.)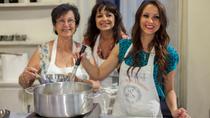 517 Reviews
Learn the art of Tuscan cooking on this 5.5-hour market visit and cooking class in Florence. Led by local chefs, visit Florence's Central Market to choose ... Read more
Location: Florence, Italy
Duration: 5 hours 30 minutes (approx.)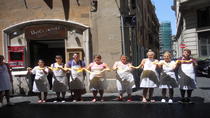 262 Reviews
Learn how to cook a four-course Italian meal in a private kitchen in the heart of Rome! You know the saying. When in Rome, do as the Romans do – and the Romans ... Read more
Location: Rome, Italy
Duration: 5 hours (approx.)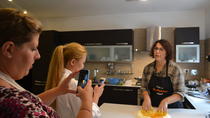 5 Reviews
Ever wanted to master the art of Italian cuisine? Join a local at her lovely home kitchen, for a private cooking class to learn how to prepare homemade pasta ... Read more
Location: Rome, Italy
Duration: 3 hours (approx.)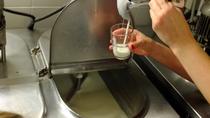 Master the art of gelato making at a family-owned 'gelateria' during a 1-hour class in Rome. Under the guidance of a local gelato maker, be introduced into the ... Read more
Location: Rome, Italy
Duration: 60 minutes (approx.)