Winery Trips from Rome
By Viator, October 2015
Every single one of Italy's 20 regions produces wine, including the two islands. Some are more famous worldwide than others – and some don't even make it out of Italy. But if you're a wine lover planning a trip to the country you would be smart to try to sample as much Italian wine as you can during your visit. These are some of the best wine regions in Italy.

Tuscany

Perhaps Italy's most world-famous wine export is Chianti, that light red known for its rope-entwined bottles. Never mind that the higher quality Chiantis don't typically come in bottles wrapped in twine. In addition to the region's Chianti wines, however, you can also sample wines like Brunello and Sangiovese. Because of the high concentration of tourists in Tuscany, visiting Tuscan vineyards may be a bit easier than in some other parts of Italy, where wineries tend not to have regular open hours or even tasting rooms. Still, it's generally easiest to book a wine tour in Tuscany, not least because then you don't have to worry about how much you're sampling.

Piedmont

The Piedmont region in the northwestern corner of Italy is known as a foodie mecca, partly because of the prized truffles that are found in the woods around Alba and partly because of the prized wines that are produced there. The grapes grown in Piedmont include Nebbiolo, Barbera, and Dolcetto, and some of the best wines are Barolo and Barbaresco. Barolo especially can be extremely expensive, even if you're in the region where it's produced. Another Piedmont wine you may be familiar with is Asti Spumante, the light and sweet sparkling wine.

Veneto

While most visitors make a beeline for Venice and then don't spend much more time in the Veneto at all, most of the region is on the mainland and couldn't be more different from the Venetian islands. The Veneto hills produce Italy's answer to France's champagne – a sparkling white wine called Prosecco – as well as a light white wine called Soave. The best reds from the Veneto are from the Valpolicella area. Valpolicella is a lighter (albeit very fruity) red, while Amarone is its more sophisticated (and more expensive) cousin. The city of Verona is a great base for exploring the Valpolicella wineries.

Lazio

Lazio isn't a region name that springs to mind as readily as Tuscany, but it's home to one of Italy's most popular destinations – Rome. Just outside Rome is perhaps the best wine-related reason to visit Lazio – Frascati. The town of Frascati is a short train ride from central Rome, and overlooks the city in the distance. Frascati wine is dry and white, and although it was especially in vogue many decades ago it's still popular today. Taking a day trip from Rome to Frascati gives you a chance to enjoy the town's wine with a picnic, all with a view looking back at the Eternal City.

Sicily

Volcanic soil is rich and ideal for growing all sorts of produce, so it's no wonder that the slopes of Europe's largest active volcano – Mt. Etna on the island of Sicily – are renowned for their agricultural prowess. Growing grapes on the side of an active volcano has its downsides, of course, but the wines produced in Sicily are worth the trip. Many of the wines produced right around Mt. Etna don't get far off the island, and most don't make it outside Italy. On the other side of the island, however, is the town of Marsala – famous for its eponymous fortified dessert wine.

Liguria

Anyone who has visited the Cinque Terre villages has no doubt noticed how the intrepid farmers have covered the cliffsides with crops – including vineyards. There are clever trams and pulley systems to help them get the grapes down during the harvest, and one of the results is a sweet, white dessert wine called Sciacchetra. It's served in small glasses, usually with a cookie on the side for dunking. Other wines produced in the Cinque Terre tend to be predominantly white, not red.

Trentino-Alto Adige

The Trentino-Alto Adige region in northeast Italy has changed hands so many times between Italian and Austrian rule that it can be difficult sometimes to remember you're not in a German-speaking country. Both red and white wines are produced here, including – fittingly enough – a white made from the German Gewürztraminer grape.

Umbria

Umbria's neighbor to the west, Tuscany, may get most of the press, but there's wine worth traveling for in Umbria, too. The best known Umbrian wine comes from one of the most popular tourist destinations in the region, and shares the same name – Orvieto. The wine is dry and not too sweet. The town sits on a hilltop surrounded by old city walls encircling an incredibly charming and picturesque historic center.

Emilia-Romagna

Not all sparkling wines are white, as anyone who has tried Lambrusco from the Emilia-Romagna can tell you. This light and fruity red once had a bit of a low-brow reputation, but today there are some excellent Lambruscos available both in and out of Italy. And since most wine lovers are also food lovers, a trip to the Emilia-Romagna is a must – this region is known throughout the country for its exceptional cuisine.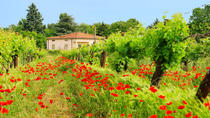 1045 Reviews
See the very best of Tuscany on a full-day trip from Rome! Traveling to the stunning Val d'Orcia region, south of Siena, you'll be introduced to a beautiful ... Read more
Location: Rome, Italy
Duration: 13 hours (approx.)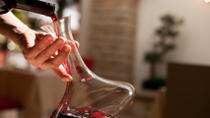 17 Reviews
Travel in style and take a luxury tour accompanied by your own private English-speaking driver to one of the most famous areas of Tuscany. Alternating woods ... Read more
Location: Florence, Italy
Duration: 4hrs or 8hrs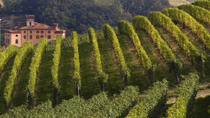 6 Reviews
Among wine cellars and famous vineyards of Langhe and Roero, come and taste the most famous Piedmontese wines: Barolo, Barbaresco, Nebbiolo, Roero, Barbera, ... Read more
Location: Turin, Italy
Duration: Varies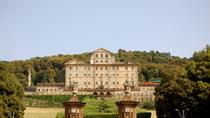 231 Reviews
Discover centuries of winemaking tradition deep in the Italian countryside on this 3.5-hour Frascati wine tasting tour from Rome. Travel out through the olive ... Read more
Location: Rome, Italy
Duration: 3 hours 30 minutes (approx.)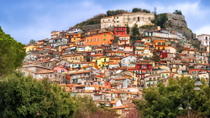 93 Reviews
Escape the hustle and bustle of Rome and visit the scenic hilltop towns of Castelli Romani on a half-day tour! Relax on the journey through the idyllic Alban ... Read more
Location: Rome, Italy
Duration: 3 - 4 hours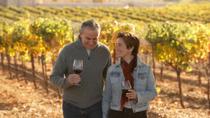 34 Reviews
Delve into the wines and winemaking heritage of the Veneto region on this small-group, half-day trip from Venice. Traveling in an air-conditioned Mercedes ... Read more
Location: Venice, Italy
Duration: 5 hours (approx.)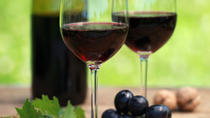 2 Reviews
Discover beautiful Lazio wine and the Castelli Romani region on this 4-hour private tour from Rome. With a local wine-expert guide, explore the wine-producing ... Read more
Location: Rome, Italy
Duration: 4 hours (approx.)