Pompeii, the Movie
By Viator, January 2014
Pompeii, the ancient Roman city that was buried in volcanic ash and therefore preserved for modern explorers, is one of Italy's most popular attractions. With all the historic monuments throughout Italy, it's still hard to beat being able to walk down Roman roads, putting the soles of your shoes into the deep ruts carved by centuries of wagon wheels. This is no museum piece – this was real, everyday Roman life, and it's here for you to see firsthand today.

The challenge, however, is that the blast from Mount Vesuvius in 79 A.D. did more than just bury Pompeii – it ripped through streets and buildings, destroying much of what was in the way. So while the city is marvelously intact compared to some ruins elsewhere, it still requires a vivid imagination (and the help of an expert tour guide) to recreate images of what the city must have looked like before the eruption.

The film "Pompeii," scheduled to be released in February 2014, will give you some mental pictures to take on your trip – beautiful computerized renderings of the bustling city, used as the backdrop for a fictional love story. After seeing the movie, a visit to the excavated city will be even more meaningful, as you will likely be more able to picture people walking down the streets, living in the buildings, and talking in the forum.

Pompeii is a massive archaeological site – it can easily take an entire day's worth of sightseeing on a day trip from Naples or Rome if you let it – and sometimes it's difficult to know why one building is more important than the others around it. Going on a guided tour of Pompeii means you'll be led to the most important finds at the site, and you'll have a picture painted for you of what the ruined buildings once looked like. And since you can't watch the "Pompeii" movie while you're taking the tour – or any other documentary recreating the ancient city, for that matter – the descriptions provided by a good guide can be especially helpful.

Pompeii is an ideal day trip from Naples. You can combine a visit to Pompeii with a stop at nearby Herculaneum (a wealthier Roman city also buried by Vesuvius, it's a smaller site that is better preserved and less touristy) or even a hike onto Mount Vesuvius itself. In nice weather, you may want to go with a tour of Pompeii followed by a trip to the Amalfi Coast before heading back to Naples.

Taking a day trip to Pompeii from Rome is a longer excursion, but it can definitely be done with a well-organized tour – and if you don't plan to go south of Rome on your trip, this may be your only opportunity to see the ancient city. And if you're aching to try modern Naples' claim to worldwide fame – pizza – then choose a tour that combines a visit to Naples with a walk through Pompeii.

There are plenty of options for guided tours of Pompeii, either on its own or in combination with another nearby attraction – and you won't regret the investment of time to see one of Italy's most famous sights.
3005 Reviews
Hike up Mount Vesuvius and then explore the UNESCO-listed ruins of Pompeii on a must-do day trip from Rome! Going at a steady pace, the hike includes a walk on ... Read more
Location: Rome, Italy
Duration: 13 hours (approx.)
1360 Reviews
Experience legendary Pompeii and Mt Vesuvius, the only active volcano in continental Europe, on this fully guided day trip from Naples. Visit Pompeii's ... Read more
Location: Naples, Italy
Duration: 7 hours (approx.)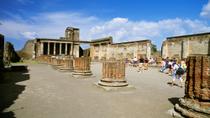 93 Reviews
Visit the ruins of two fossilized ancient towns – Pompeii and Herculaneum – in one day on this must-do tour from Naples! After exploring ... Read more
Location: Naples, Italy
Duration: 8 hours (approx.)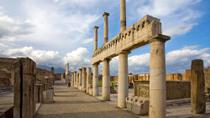 482 Reviews
Discover the ancient Roman city of Pompeii — a UNESCO World Heritage site — on this 3-hour tour from Naples. Following your hotel pickup and onward minibus ... Read more
Location: Naples, Italy
Duration: 3 hours (approx.)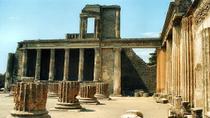 300 Reviews
No visit to southern Italy would be complete without a visit to the unique ruins of Pompeii, and this tour is perfect if you're short of time. Explore the ... Read more
Location: Sorrento, Italy
Duration: 4 hours (approx.)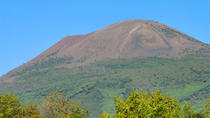 67 Reviews
Visit the volcano that destroyed Pompeii on this fascinating afternoon trip to Mt. Vesuvius from Naples. Traveling to the top of the only active volcano in ... Read more
Location: Naples, Italy
Duration: 3 hours (approx.)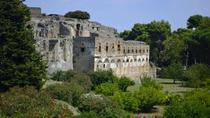 13 Reviews
Take a private tour of the famous ruins of Pompeii on this half-day trip from Naples. Italy's most famous archaeological site, Pompeii is an excavated city ... Read more
Location: Naples, Italy
Duration: 4 hours (approx.)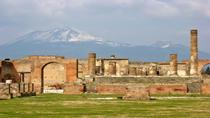 4 Reviews
Discover the ancient ruins of Pompeii and the city of Naples on a full-day tour with an expert local guide! After touring Pompeii's UNESCO-listed ... Read more
Location: Naples, Italy
Duration: 8 hours (approx.)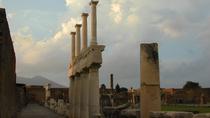 599 Reviews
Discover the UNESCO World Heritage site of Pompeii on this 12-hour independent tour from Rome and enjoy hassle-free round-trip travel by air-conditioned coach. ... Read more
Location: Rome, Italy
Duration: 12 hours (approx.)