Baths of Varius Tours
The Baths of Varius was a bathhouse built in the 2nd century AD in Ephesus in present-day Turkey. The north and east walls of the original building were carved from natural outcroppings of rock. Several renovations over a few centuries gave the building a unique look, including the addition of a hallway that was 130 feet long and covered in mosaics from the 5th century. The baths covered a large area and had several different rooms, including separate rooms for cold, warm, and hot water. There were also private rooms for a few wealthy citizens of Ephesus. It is believed one section functioned as a gymnasium. 
The Romans place a high value on personal cleanliness, so the Baths of Varius would have been an important building in ancient Ephesus. Most but not all sections of the baths have been excavated, and no restoration work has been done yet. Some sections are in decent shape, but it might take some creativity to imagine what other sections once looked like. 
Practical Info
The Baths of Varius and the rest of Ephesus are located just outside the town of Selcuk and 51 miles from Izmir.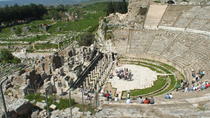 Ephesus was an ancient Greek city on the coast of  IONIA,3 km southwest of the present day Selçuk  town Turkey. It was one of the twelve cities of Ionian ... Read more
Location: Kuşadası, Turkey
Duration: 7 hours (approx.)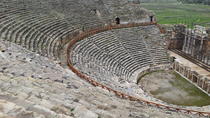 In order to get an amazing atmosphere of the archaeological sites around Ephesus Ancient City this is the best option for you to go through with. Time to lose ... Read more
Location: Kusadasi, Turkey
Duration: 5 hours (approx.)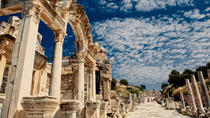 14 Reviews
Admire the spectacular ancient sights of Ephesus, site of one of the "Seven Wonders of the Ancient World". On this privately guided tour, you will ... Read more
Location: Kusadasi, Turkey
Duration: 8 hours (approx.)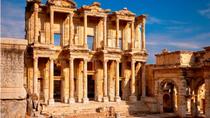 11 Reviews
Join a half-day guided tour from Kusadasi and explore the remarkable ruins of the ancient city of Ephesus and see the remains of the Temple of Artemis.
Location: Kuşadası, Turkey
Duration: 4 hours (approx.)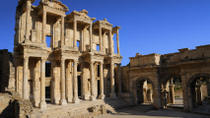 1 Review
Trace the steps of ancient Romans on this full-day trip to Ephesus from Marmaris. With an expert guide, delve into the ruins of this ancient city, once the ... Read more
Location: Marmaris, Turkey
Duration: 12 hours (approx.)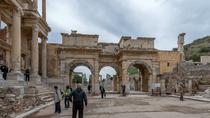 Join a full-day guided tour from Kusadasi and explore the remarkable ruins of the ancient city of Ephesus. Visit the last documented residence of the Virgin ... Read more
Location: Kuşadası, Turkey
Duration: 8 hours (approx.)