Ephesus (Efeze) Tours
The ancient Greek city of Ephesus, also know as Efeze, was once one of the world's greatest cities. It ranked only behind Rome in its size and importance during the Roman period, at which time (1st century BC) it was the second largest city in the world.
Famed for its Temple of Artemis, one of the Seven Wonders of the Ancient World, Ephesus has an incredible number of ruins that, with just a small amount of imagination, can take you back to what life was like for ancient Greeks and Romans.
Ephesus's most spectacular site has to be the façade of the Library of Celsus. Constructed between 110 and 135AD, the library originally had three floors and its galleries were stocked with scrolls, and a reading room faced east to take advantage of the morning light. An earthquake destroyed the Library in the 10th century (along with most of the city). The gorgeous façade and front portico that can be seen today were reconstructed in the 1970s.
Other sites include the Theater, Basilica of St. John, the Cave of the Seven Sleepers, Church of Mary, House of the Virgin, the Isabey Mosque, the Prytaneion, the synagogue and the Temple of Hadrian. All the sites are in varying states of disrepair. Unfortunately, all that remains of the Temple of Artemis, rumoured to have been four times as large as the Parthenon and constructed entirely of marble, is one lone column standing in a marshy basin.
Ephesus is also one of the seven churches of Asia listed in the Bible's Book of Revelations. Because of the city's ties to biblical figures, it is an important sacred site for Christians as well as a historical one. But Christianity is not the only religion represented in the ruins - there is also the Isabey Mosque, as well as the foundations of what was likely a synagogue.
Practical Info
Not to be missed are the remains of a brothel and sophisticated latrine, just off the main street leading down to the Library of Celsus.
Ephesus is southwest of Selcuk, 80km (50mi) from central Izmir. Most people visit the ancient city on a guided tour.
80 Reviews
Rewind 2,000 years on this day trip to incredible Ephesus and the House of Virgin Mary from Istanbul, including round-trip flights. Fly to Izmir and drive to ... Read more
Location: Istanbul, Turkey
Duration: 15 hours (approx.)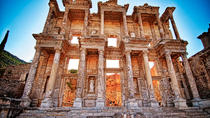 Delve into Ephesus, one of the world's finest examples of a classical ancient city. On this full-day, small-group, all-inclusive tour, fly south from Istanbul ... Read more
Location: Istanbul, Turkey
Duration: 17 hours (approx.)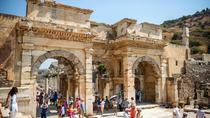 6 Reviews
Visit 3 different places in 1 day. Firstly ancient ruins of Ephesus which is the best-preserved ancient city in Turkey. It is a must see  while visiting ... Read more
Location: Izmir, Turkey
Duration: 10 hours (approx.)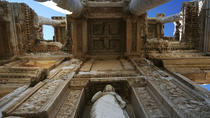 3 Reviews
This day-long tour lets you explore the ancient city of Ephesus. Over the course of roughly six hours, see incredible ruins from a range of historical periods, ... Read more
Location: Izmir, Turkey
Duration: 6 hours (approx.)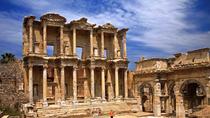 2 Reviews
If you are visiting Istanbul and have limited time to explore the rest of Turkey, then this tour is for you!  Don't miss the opportunity to visit Ephesus, one ... Read more
Location: Istanbul, Turkey
Duration: 1 day (approx.)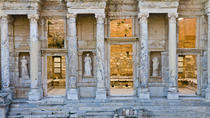 50 Reviews
Discover the magic of the ancient ruins of Ephesus and the House of the Virgin Mary on this day trip from Kusadasi. Visit the Temple of Artemis, one of the ... Read more
Location: Kusadasi, Turkey
Duration: 8 hours (approx.)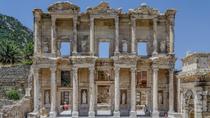 17 Reviews
There are many ways of touring in Ephesus and this tour is for the ones who are deeply interested in archaeology and history lovers. You will not only visit ... Read more
Location: Kuşadası, Turkey
Duration: 1 day (approx.)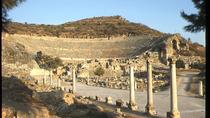 1 Review
The Selcuk area of Turkey is the location of some amazing ancient ruins and sites. The history dates back to B.C. times and the area used to be one of the most ... Read more
Location: Kusadasi, Turkey
Duration: 7 hours (approx.)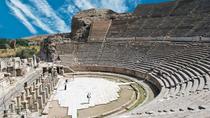 The tour will start with the visit of ancient city of Ephesus. Once in the ancient city itself, we will explore this ancient Roman city and visit the Forum, ... Read more
Location: Kusadasi, Turkey
Duration: 4 hours (approx.)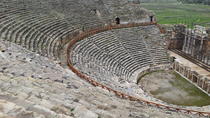 In order to get an amazing atmosphere of the archaeological sites around Ephesus Ancient City this is the best option for you to go through with. Time to lose ... Read more
Location: Kusadasi, Turkey
Duration: 5 hours (approx.)