Kadifekale
Kadifekale, also known as the Velvet Castle, presides over the town from its vantage point on top of a hill of the same name. Built by General Lysimachos, a successor of Alexander the Great, Kadifekale appears to have acted as both a castle and a ...
Tours & Tickets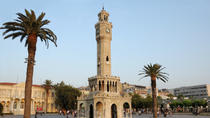 16 Reviews
Discover the magic of Izmir on an introductory half-day tour that covers all the highlights. Wander through the ancient Agora, marvel at the ruins of Alexander ... Read more
Location: Izmir, Turkey
Duration: 3 hours (approx.)
A guided cultural and theme tour of Jewish heritages day tour of Kadifekale Castle, Asansor, Beth Israel Synagogue, Dario Moreno Street, House-Havra Street.
Location: Izmir, Turkey
Duration: 7 hours (approx.)