123 Reviews
Address:

Teton Park Road, Jackson Hole, Wyoming 83414, USA

Admission:

Car: $25, Motorcycle: $20, Biker/Hiker: $15
A park that was actually established twice (the original 1929 park was formed to protect the mountain peaks and the lakes near the base; much of the adjacent valley floor was included in the boundaries established in 1950), Grand Teton Park encompasses approximately 310,000 acres of land including all 40 miles of the Teton Range and sections of the Jackson Hole Valley.
Located only 10 miles south of Yellowstone National Park (it takes a little more than an hour to travel through the park from the southern boundary to Yellowstone, not including stops), Grand Teton National Park is a lesser-known but no-less spectacular neighbor to Yellowstone. Visitors to Grand Teton National Park can enjoy a myriad of activities including fishing, hiking, camping, climbing, boating on Jenny Lake, rafting the Snake River, or viewing wildlife like moose, elk, bald eagles, gray wolves, bison and black and grizzly bears.
Practical Info:
Grand Teton National Park is open year-round, though some facilities and roads close in the winter. A $25 per vehicle entrance fee gets seven days of access to both Grand Teton and Yellowstone national parks. Bikers and hikers can enter the park for $12 per person for seven days; motorcyclists will pay a $20 fee. The park entrance gates do not close; hours vary for park concessions, facilities and visitor centers.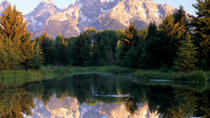 35 Reviews
Experience the tranquil landscapes of Grand Teton National Park on this easy day trip from Jackson. A must-see Wyoming treasure, this park offers one ... Read more
Location: Jackson Hole, Wyoming
Duration: 8 hours (approx.)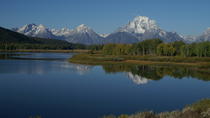 2 Reviews
Want to explore The Grand Teton National Park with a local guide? This full day option will give you the opportunity to cover all that can be seen in one day ... Read more
Location: Jackson, Wyoming
Duration: 8 hours (approx.)
Set out on a full-day exploration of Grand Teton National Park. Depart Jackson, Wyoming, for a guided tour of the park, visiting some of its top attractions. ... Read more
Location: Jackson, Wyoming
Duration: 8 hours (approx.)
Wildlife sightings are common in Grand Teton National Park, but you have to know where to look. This 5-hour guided tour covers plenty of ground including ... Read more
Location: Jackson, Wyoming
Duration: 5 hours (approx.)
See Grand Teton National Park at sunset and let a guide show you the best spots for wildlife viewing at dusk. Depart from your Jackson or Teton Village ... Read more
Location: Jackson, Wyoming
Duration: 5 hours (approx.)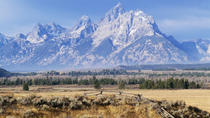 Guided day tours of Grand Teton National Park begin from Jackson Hole (Teton Village), Jackson Wyoming and you will go to Flat Creek, Kelley, Mormon Row, ... Read more
Location: Jackson, Wyoming
Duration: 8 hours (approx.)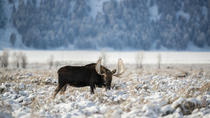 2 Reviews
Embrace winter in Wyoming on a guided tour of Grand Teton National Park, the National Museum of Wildlife Art, and the National Elk Refuge. First drive around ... Read more
Location: Jackson Hole, Wyoming
Duration: 8 hours (approx.)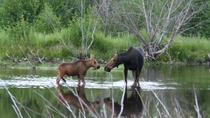 72 Reviews
Explore Grand Teton National Park in search of wildlife on this exhilarating tour by open-air safari-style vehicle in the summer (June 15 - August 31). At dawn ... Read more
Location: Jackson Hole, Wyoming
Duration: 4 hours (approx.)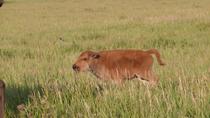 3 Reviews
Grand Teton National Park in Jackson Hole Wyoming is a must see, even if you only have a few hours to spare.  The four hour tour will visit all major points of ... Read more
Location: Jackson, Wyoming
Duration: 4 hours (approx.)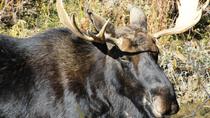 2 Reviews
Your Grand Teton National Park tours will begin from Jackson Hole and lead you into the beautiful wilderness of Grand Teton National Park. Keep a lookout for ... Read more
Location: Jackson, Wyoming
Duration: 8 hours (approx.)