For those who enjoy a day out fishing, Jackson Hole is a great destination. With streams abundant with native cutthroat trout and serene mountain lakes popular with fly fishers, you'll have many options for fishing. The most popular is undoubtedly the famous Snake River, where people flock to enjoy dry fly fishing, with the rugged rising peaks of the Grand Teton Range providing a scenic backdrop. Snake River begins in the southern part of Yellow Stone National Park, although the most popular section of the area for fishing is an 80-mile (129-kilometer) stretch that runs from Jackson Lake, through the Jackson Hole valley to the Palisades Reservoir. It is here where you're likely to catch larger than average cutthroat trout over 16 inches (41 centimeters) and sometimes even over 20 inches (51 centimeters).

For year-round fishing head to Jackson Lake in Grand Tenton National Park. The lake is home to lake trout, cutthroat trout, brown trout, salmon and pike, and you can choose to fish from a boat or from shore. While June through September is the most popular time for the sport, January is when you'll be able to ice fish, and is your best chance for reeling in big catch.

Fishing-enthusiasts also enjoy Gros Ventre River, a backcountry river filled with eight to 14-inch (20 to 36-centimeter) hungry cutthroat trout. While the river isn't hard to get to the road isn't right on the river, so you'll need to do a bit of walking. It's worth it, however, as fishing on Gros Ventre River is a truly serene experience where you won't encounter many other people.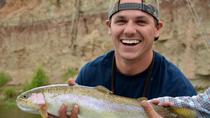 1 Review
Experience the best fly fishing trips in Jackson Hole. Our full day trips are totally private trips, just you and your guide. The fishing trip includes guide, ... Read more
Location: Jackson, Wyoming
Duration: 9 hours (approx.)