Surfing in Jaco
By Viator, June 2015
With its perfect and predictable sandy-bottomed beach break, flanked by more challenging waves on either side, Jaco has long been a top draw for the international surfing set. Waves are kicky enough for experts and great for beginners, hence the scores of surf schools and independent instructors located around town. This is also one of the best spots in Central America to rent or buy a used board for your own endless summer; many surfers start their trips here for this very reason.

The funky party town, with its chaotic collection of inexpensive lodging, rollicking nightlife, excellent eateries, banks, tour operators, and other services, makes this a great base to explore other waves crashing into the gorgeous coastline. While there are dozens of websites detailing the different breaks in the area, you'll find out about hidden spots by staying here and chatting up the locals.

Just be aware that big city rules most definitely apply! You'll make a lot of new friends as you enjoy the region's epic surf, but be wary of letting anyone in your room unsupervised, or leaving valuables in your car or on the beach anywhere along the Central Coast.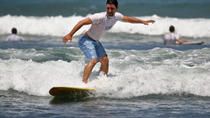 1 Review
2-hour surf lesson with professional instructor in Jaco Beach. Jaco Beach is know for its world class surf and has waves for all ages. Caution! surfing can ... Read more
Location: Jaco, Costa Rica
Duration: 2 hours (approx.)