Bapu Bazaar Tours
Beyond the extravagant palaces, lakes, elephants, camels, and bustling street activity that is Jaipur, visitors should not miss the shopping in the Pink City. Jaipur is known for its production of precious jewelry and brightly colored textiles. Bapu Bazaar is the best place in the city to browse the latter.
Some of the more famous fabrics include the block print materials and the embroidered clothing. Visitors should be prepared to bargain - but that's half the fun of shopping in India. Ready-made textiles and all types of bangles and scarves are on display throughout the bazaar. Another highlight for many visitors is the wide array of camel leather goods, the most unique of which may be the jootis, or Rajasthani leather shoes. Outside of clothing, many look to Bapu Bazaar for its Rajasthani-crafted quilts and bedding.
The pedestrian-only Bapu Bazaar is also just a great place to take a stroll and take in the daily life and energy of Jaipur.
Practical Info
Bapur Bazaar is located just off MI Road between Agra-Bikaner Road and Choura Rasta in central Jaipur. The Bapu Bazar bus stop is located at the start of the market, or take an auto rickshaw or taxi to the area. The shops are typically open daily from 11:00 am to 7:00 pm but are closed on Sundays. There is no admission fee.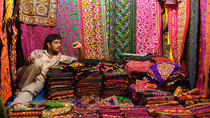 No tour is complete without a little bit of shopping. In the company of an expert local guide, shop the streets and stores of Jaipur and take a piece of India ... Read more
Location: Jaipur, India
Duration: 4 hours (approx.)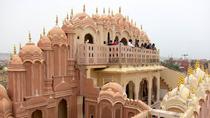 Charming Jaipur in Rajasthan with its many colors and contrasts is best explored at a leisurely walking tour. The city has been ranked as one of the cleanest ... Read more
Location: Jaipur, India
Duration: 2 to 3 hrs