Maota Lake Tours
This small lake sits under the massive Amer (Amber) fort just outside of Jaipur and includes a small island in its center, lush with gardens. The Kesar Kyari Bagh, or saffron garden, contains plants that are said to have been planted by a Maharaja in the 15th century, and all of the plants sit on a raised square platform base with intricate stonework laid between the colorful patterned plants.
The lake provides a serene setting from which to look up at Amer Fort on the hillside. The fort and palace are reflected on the water's surface, and Maota Lake once served as the main source of water for the Amer Palace. The other garden on the lake, Dilaram Bagh, is named after its architect, and both gardens were clearly created to be seen from above, with geometric patterns that can only be seen from up the hill.
Practical Info
Maota Lake is located on the south side of the city of Amer, about 11 kilometers from the center of Jaipur, at the base of Amer Fort. There is no fee to visit the lake, but there is a fee to traverse up (or ride an elephant) to and enter the Amer Fort above, which is open 8 am to 6 pm daily.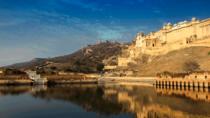 10 Reviews
Explore Jaipur's top cultural and architectural attractions on this private sightseeing tour. Marvel at the impressive architectural styles of sprawling ... Read more
Location: Jaipur, India
Duration: 8 hours (approx.)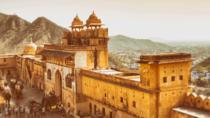 3 Reviews
Visit one of India's most renowned architectural gems on this private tour to Jaipur's Amber Fort. Take a jeep ride up to the fort and witness an interesting ... Read more
Location: Jaipur, India
Duration: 4 hours (approx.)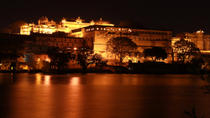 6 Reviews
Witness the history of famous Amber Fort (Amer Fort) brought to life during an amazing cultural performance – the Amber Fort Light and Sound Show. From Jaipur, ... Read more
Location: Jaipur, India
Duration: 4 hours (approx.)
6 Reviews
Experience the splendor of India's top architectural monuments, including several UNESCO World Heritage Sites like the Taj Mahal, Humayun's Tomb and the ... Read more
Location: Delhi, India
Duration: 7 days (approx.)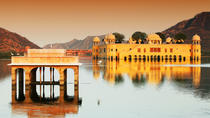 39 Reviews
Marvel at the many architectural wonders of India on this 4-night private tour of the Golden Triangle: Delhi, Agra, and Jaipur. View the impressive monuments ... Read more
Location: Delhi, India
Duration: 5 days (approx.)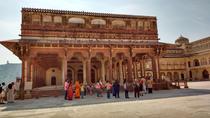 27 Reviews
Admire the beauty and extravagance of 18th-century architecture in India as you visit incredible palatial complexes, forts and temples on this 2-day private ... Read more
Location: Delhi, India
Duration: 2 days (approx.)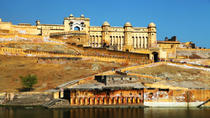 13 Reviews
Explore India's historical and architectural landmarks with a guide on this 6-day private tour of Delhi, Agra and Jaipur — the Golden Triangle — plus Mandawa. ... Read more
Location: Delhi, India
Duration: 6 days (approx.)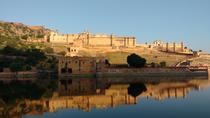 4 Reviews
Get an in-depth look at the rich architectural history and cultural heritage of Jaipur on this 3-day tour of the vibrant and dynamic capital of Rajasthan in ... Read more
Location: Delhi, India
Duration: 3 days (approx.)