Sparkling gemstones, glittery jewel-toned bangles, pounded silver, blue ceramics and silk sarees in a kaleidoscope of colors line the stalls of Jaipur's busy bazaars. The showy colors of the city's markets look even brighter next to the subdued white and pink marble and whitewash of the city and the monotone desert surroundings. The Pink City rivals Delhi and Mumbai when it comes to shopping opportunities. Here's a quick rundown on where to shop and what to buy during your stay.

Johari Bazaar
The crowded, cramped lanes of Johari Bazaar are the place to go for inexpensive costume jewelry, sarees, camel hide sandals and gemstones. If you're buying gems, however, know what you're looking for since scamming runs rampant.

MI Road
Short for Mirza Ismail, MI Road offers everything from ready-made clothing to tribal and ornamental jewelry. You'll also find antiques, housewares and Jaipur dresses on display as well as some of the city's best restaurants.

Bapu Bazaar
The fully pedestrianized Bapu Bazaar makes for a pleasant stroll as you shop for textiles, camel leather sandals and glass bangles. This is also one of the best places to find razai, a type of colorful Jaipuri quilt.

Amber Road
Jaipur is famous for its blue, quilt-like pottery, and if you're looking to bring some home with you, your best bet is on Amber Road. Among the pottery stores and factories on the road, the Jaipur Blue Pottery Art Center is one of the most reliable.

No matter where in Jaipur you shop, be prepared to bargain. Most shopkeepers will throw out a price four or five times higher than what the item is actually worth. Instead of responding with what you're willing to pay, offer a number much lower and go from there. If the shopkeeper doesn't seem to be budging, saying thank you and turning to walk away is usually enough to bring the price down further. Always go into the interaction with a smile and a sense of humor.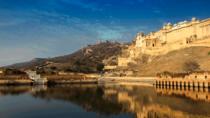 10 Reviews
Explore Jaipur's top cultural and architectural attractions on this private sightseeing tour. Marvel at the impressive architectural styles of sprawling ... Read more
Location: Jaipur, India
Duration: 8 hours (approx.)
Jaipur, the Pink City of India is the city that best known for historical architectural buildings and It's traditional culture. Apart from all these it is also ... Read more
Location: Jaipur, India
Duration: 6 hours (approx.)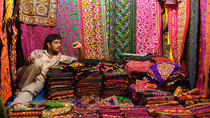 No tour is complete without a little bit of shopping. In the company of an expert local guide, shop the streets and stores of Jaipur and take a piece of India ... Read more
Location: Jaipur, India
Duration: 4 hours (approx.)
Jaipur, the ' pink city of India ' is better known for its royalty and the wonderful monuments. But, very few people are aware of the list of endless things ... Read more
Location: Jaipur, India
Duration: 6 hours (approx.)
Historically Rajasthan's cuisine evolved from its need to reduce the amount of water used for cooking. Given the harsh desert terrain, foods that delivered ... Read more
Location: Jaipur, India
Duration: 3 to 4 hrs
Jaipur, the Pink City of India is the city that best known for historical architectural buildings and It's traditional culture. Apart from all these it is ... Read more
Location: Jaipur, India
Duration: 6 hours (approx.)
India is brimming with a rich cultural heritage. Jaipur is known as the Pink City and is also the capital of Rajasthan. Jaipur is a shoppers' elysium. You can ... Read more
Location: Jaipur, India
Duration: 6 hours (approx.)
Explore the markets of Jaipur and discover a shopper's paradise. Buy popular gifts including jewelry, textiles, and colorful saris, as well as handicrafts of ... Read more
Location: Jaipur, India
Duration: 5 to 7 hrs
Get a pick up on time by a TukTuk the most common transport of a very common person and head straight towards the Pinkcity Main Shopping Places En route enjoy ... Read more
Location: Jaipur, India
Duration: 6 hours (approx.)
Jaipur, the Pink City of Rajasthan, is truly a shopper's paradise. With a fantastic range of handicrafts, jewellery, textiles, exotic blue pottery, beautiful ... Read more
Location: Jaipur, India
Duration: 6 hours (approx.)