Blue Mountains
The Blue Mountains create the longest mountain range on the island of Jamaica and constitute one of the longest continuous mountain ranges in the Caribbean. Blue Mountain Peak is the highest peak on the island and rises an impressive 7,402 feet (2,256 meters) above sea level. Stretching for 28 miles (45 kilometers), the mountain range spans the rugged and scenic eastern region of Jamaica and offers views of the island's north and south coasts. On a clear day, you can see across the Caribbean all the way to Cuba.

The Blue Mountains are one of the most spectacular natural attractions on the island of Jamaica and are a major draw for nature lovers. The region is home to a wide variety of flora and fauna including Jamaica's national tree, the Blue Mahoe; and the giant swallowtail, the second-largest butterfly in the world. The temperature in the mountains is noticeably cooler than down at sea level and the layer of mist that shrouds the peaks gives the mountains their bluish tint.

The Blue Mountains in Jamaica were once completely forested. The lower slopes have since been cleared for farming and today Jamaica's famous gourmet Blue Mountain Coffee – considered to be among the best in the world – is cultivated on the hillside. The Blue and John Crow Mountains National Park covers 194,000 acres and preserves the remaining forested areas.

There are hundreds of paths leading throughout the region, the most popular being the 7-mile (11.3-kilometer) hiking trail that leads up to the top of Blue Mountain Peak. It's a challenging and scenic hike that takes, on average, around seven hours to complete. If you're short on time, it's also possible to drive up to the peak in just under an hour. Once there, why not enjoy a cup of Blue Mountain Coffee while taking in the spectacular panoramic views overlooking the island of Jamaica.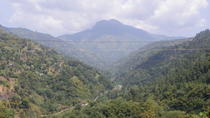 2 Reviews
The Blue Mountain Peak is the highest mountain peak in Jamaica and one of the highest in the Caribbean. The elevation is 7,402 / 2,256 meters with beautiful ... Read more
Location: Ocho Rios, Jamaica
Duration: Flexible
Explore the majestic Blue Mountains by taking a hike up Jamaica's tallest peak (7,200 feet)! Get away from the busy, broiling coastal regions of Jamaica and ... Read more
Location: Kingston, Jamaica
Duration: 12 hours (approx.)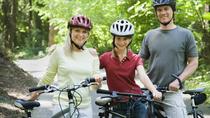 18 Reviews
Explore the Blue Mountains of Jamaica on this full-day tour, including a fun bicycle ride – downhill! After a drive to the mountains for a Jamaican brunch, ... Read more
Location: Ocho Rios, Jamaica
Duration: 9 hours (approx.)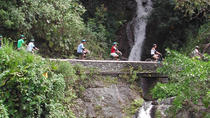 Experience the Blue Mountains, Jamaica's longest mountain range, on a private full-day tour that includes a bike ride down the mountain. Take in the gorgeous ... Read more
Location: Montego Bay, Jamaica
Duration: 11 hours (approx.)