24 Reviews
Address:

Maligne Lake Rd, 27 miles (44 km), Jasper National Park, Jasper, Alberta, Canada, Canada

Admission:

Included in Jasper National Park entry
Spirit Island Tours
Jasper National Park's Spirit Island, which sits on the south end of Maligne Lake (the second-largest glacier-fed lake in the world and the largest natural lake in the Canadian Rockies), is one of the most-photographed sights of the Canadian Rockies. Located approximately 30 miles (48 km) from downtown Jasper, Maligne Lake is easily accessible via car, bus, or boat tour. Tour boats or private, non-motorized watercraft are the only ways of visiting Spirit Island.
Surrounded by ice-capped mountains, Maligne Lake stretches for 14 miles (22 km) to the melt-water channels of the Coronet Glacier. Because the lake is glacially formed, remnants of the last Ice Age still cling to the cliffs and surrounding high-elevation mountains. The melt water from the ring of glaciers is what gives the lake its distinctive, tranquil blue color. Moose, caribou, ducks, and plenty of other wildlife call the spruce-and-pine forest around the lake their home. The area's numerous hiking trails become cross-country skiing trails in the winter, making Maligne Lake a popular destination to visit all year long.
Practical Info
You may encounter tour boats on Maligne Lake from 8:30 a.m. to 8 p.m., with most operating between 9 a.m. and 6 p.m. There are two campgrounds on the lake. Camping is limited to four nights in total, two nights maximum at each camp. The maximum group size, regardless of the number of sites or permits taken, is ten people. A National Park Fishing Permit is required to fish at Maligne Lake. Food storage lockers (one per site) are provided at each campground. Campfires are only permitted in fire grates. The fire grates and the picnic tables are shared between all the campsites.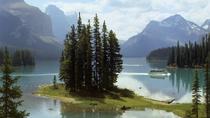 62 Reviews
Discover Jasper National Park's spectacular Maligne Valley on a 6-hour adventure with an expert guide. During stops at Maligne Canyon, Medicine Lake and ... Read more
Location: Jasper, Canada
Duration: 6 hours (approx.)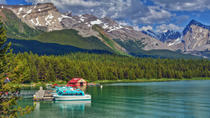 23 Reviews
Discover picturesque Jasper before arriving at the world famous Maligne Lake. Cruise toward the south end of this postcard setting where you have the ... Read more
Location: Jasper, Canada
Duration: 6 hours (approx.)