Zion Gate Tours
When Ottoman Turkish Sultan Suleiman was rebuilding the Old City walls of Jerusalem during the sixteenth century, the architects neglected to consider a Franciscan monastery just outside the walls. What is today the Zion Gate was punched through the wall to provide the monastery access to the Old City. During the 1948 War of Independence the gate was the site of fierce fighting between Jordanians and Palmach forces; the facade still bears bullet holes.
One of eight gates in the wall, Zion Gate is situated on the south side of the city, looking out toward Mount Zion. For modern day visitors, the gate serves as one of the primary entrances into the Jewish and Armenian quarters.
Practical Info
The Zion Gate is the closest gate to the Western Wall. It's also located nearby the Tomb of David and Upper Room, so consider visiting them at the same time.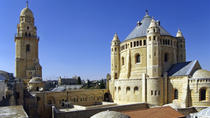 34 Reviews
Experience the ancient religious force of Old Jerusalem on this full-day tour from Tel Aviv. Travel by coach to the 3,000-year-old city to view its hallowed ... Read more
Location: Tel Aviv, Israel
Duration: 10 hours (approx.)
5 Reviews
Experience Jerusalem's and Bethlehem's holiest sites, and retrace Jesus' steps, on a Super Saver from Tel Aviv that combines two popular, Christian-oriented ... Read more
Location: Tel Aviv, Israel
Duration: 2 days (approx.)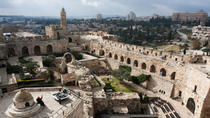 18 Reviews
Discover the City of David in Jerusalem on an essential day trip from Tel Aviv. Formerly the settlement where King David established his Kingdom, the City of ... Read more
Location: Tel Aviv, Israel
Duration: 10 hours (approx.)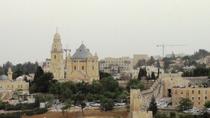 This small group tour will take you to the Old City Jerusalem with its fascinating Panorama, where from you will proceed with a walking guided tour through ... Read more
Location: Jerusalem, Israel
Duration: 9 hours (approx.)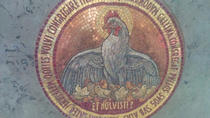 1 Review
Walk in Jesus' steps on this tour. In this tour your will visit many significant places that are mentioned in the Bible.
Location: Jerusalem, Israel
Duration: 8 hours (approx.)
1 Review
Experience the highlights of Old and New Jerusalem, and the ancient City of David, on a Super Saver that combines two Jewish-oriented full-day tours from Tel ... Read more
Location: Jerusalem, Israel
Duration: 2 days (approx.)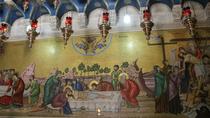 53 Reviews
Be swept away by the ancient and religious sites of Jerusalem on this compelling full-day coach and walking tour from Tel Aviv. With an expert guide to explain ... Read more
Location: Tel Aviv, Israel
Duration: 10 hours (approx.)