The South African city of Johannesburg is main international gateway to the country, but visitors tend to get on another flight fairly quickly and head for cities like Cape Town or Durban. There's enough to see and do in Johannesburg to keep you entertained for several days, however, and if you've got a South African safari on your to-do list then Johannesburg is a great jumping-off point for a safari trip.

You can choose to do a quick day trip safari, from Johannesburg and back again in one day, before you go on to whatever your next South African destination is. The Pilanesberg Nature Reserve is within an easy drive from Johannesburg, and the reserve is home to all of Africa's so-called "Big Five." With a day trip to Pilanesberg Nature Reserve from Johannesburg, you'll get a morning game drive in (which means it's a very early departure from Jo'burg) before heading to the nearby Sun City resort for a little R&R before going back to your hotel.

Of course, there's no guarantee that you'll see all the animals you want to see - especially with only one game drive - so it's always best to spend a few days on safari if you can. There are 3-5 day safari trips you can take from Johannesburg.

With a 4-day safari from Johannesburg, you can go to the world famous Kruger National Park. You'll get several game drives and game walks in, affording you lots of opportunities to see the "Big Five" - along with all the other spectacular wildlife - and a chance to relax in the gorgeous South African wilderness in between drives. You can also include a side trip to nearby Victoria Falls with a multi-day safari, too, either flying in and out in a relatively short 3-day trip, or making it a 5-day trip that includes a visit to Botswana's Chobe National Park.

Whatever safari option you choose from a base in Johannesburg, don't miss out on spending a day or two exploring the city itself before you move on. From the infamous township of Soweto to the Apartheid Museum to the city's newfound status on the architectural scene to bungee jumping between two cooling towers - there are plenty of reasons to go on safari right in Jo'burg, too.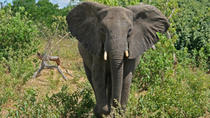 7 Reviews
Visit Victoria Falls and Botswana's Chobe National Park on a 5-day tour from Johannesburg, and enjoy non-stop thrills from start to finish! After flying to ... Read more
Location: Johannesburg, South Africa
Duration: 5 days (approx.)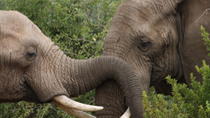 12 Reviews
Spend a full day game viewing in Pilanesberg National Park. You have the option of choosing between an Open Game Viewing vehicle and a closed vehicle. Enjoy ... Read more
Location: Johannesburg, South Africa
Duration: 12 hours (approx.)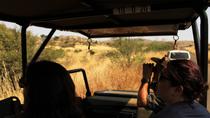 9 Reviews
Come and experience the wonders of the Pilanesberg Nature reserve in an open 4x4 Safari vehicle on this 10-hour tour. Have the opportunity to view the big 5 ... Read more
Location: Johannesburg, South Africa
Duration: 10 hours (approx.)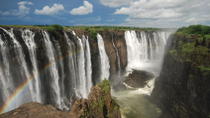 11 Reviews
Visit Africa's breathtaking Victoria Falls on this 3-day trip from Johannesburg with flights and two nights of 3-, 4- or 5-star hotel accommodation included. ... Read more
Location: Johannesburg, South Africa
Duration: 3 days (approx.)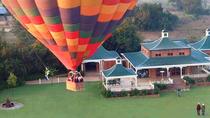 1 Review
If you're going to do it, then do it in unassailable style. Quaff champagne as you enjoy what some describe as the closest thing to heaven known to man - the ... Read more
Location: Magaliesburg, South Africa
Duration: 4 hours (approx.)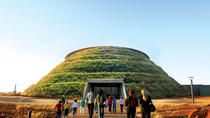 1 Review
The Cradle of Humankind site currently occupies and area of 47,000 hectares. It contains a complex of limestone caves including the Sterkfontein Caves. It is ... Read more
Location: Johannesburg, South Africa
Duration: 8 hours (approx.)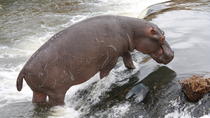 5 Reviews
This one day tour to Kruger National Park departs from Johannesburg in the early morning. After check-in at Kruger National Park, immediately start your day's ... Read more
Location: Johannesburg, South Africa
Duration: 16 hours (approx.)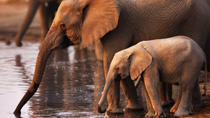 32 Reviews
Spot the "Big Five" at Pilanesberg Nature Reserve then relax at the unique Sun City resort on a packed day trip from Johannesburg. Combining two very ... Read more
Location: Johannesburg, South Africa
Duration: 12 hours (approx.)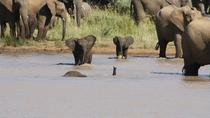 4 Reviews
Enjoy a Big5 game drive in the Pilanesberg National Park. You have the option of choosing between an open game viewing vehicle or a closed vehicle. An ... Read more
Location: Johannesburg, South Africa
Duration: 12 hours (approx.)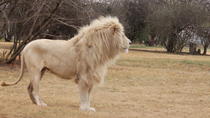 The Rhino & Lion Nature Reserve is a privately owned, non-subsidized game reserve, covering approximately 1 200 ha on the Highveld of Gauteng. The reserve ... Read more
Location: Johannesburg, South Africa
Duration: 4 hours (approx.)