Juneau Icefield Tours
One not to miss experience when traveling to Juneau is visiting the Juneau Icefield. The fifth-largest icefield in the Western Hemisphere at 3,900 square kilometers (1,500 square miles), it's home to over 140 interconnected glaciers. This is where you'll find Juneau's most popular tourist attraction, Mendenhall Glacier, a 12-mile (19-kilometer) long drive-in glacier.
There are many ways to explore the Juneau Icefield and Mendenhall Glacier, some of which include a whale watching cruise, kayaking, a rafting tour, and trekking on and/or around the glacier. Another popular glacier to visit in the Juneau Icefield is Taku Glacier, touted as the world's deepest and thickest glacier at 4,845 feet (1,477 meters) thick, which is also possible to hike on.
A great way to explore the Juneau Icefield is via an aerial tour, as it provides your best chance at seeing the many glaciers at once. Most of the icefield is located within the lush Tongass National Forest, allowing you to experience two major Alaska attractions at once.
Keep in mind, the Juneau Icefield has been retreating since the year 1700. The Juneau Icefield Research Program monitors the issue. Although it would take a long time for the glaciers to completely disappear, it's a good idea to visit soon while they're at their largest and most beautiful.
Practical Info
The Juneau Icefield is located less than 15 minutes from downtown Juneau, running from the Taku River inlet to Skagway. Experience it by booking a tour with a knowledgeable guide or taking a drive for yourself. Keep in mind if you're not on a tour and are viewing the glaciers from the road it's best to go in the evening, as this is when the cruise ships and tourists have left.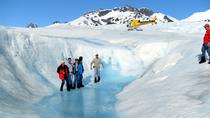 17 Reviews
Soak up Alaska's amazing scenery from two different perspectives – on a helicopter tour and a guided glacier walk from Juneau. Enjoy aerial views on a ... Read more
Location: Juneau, Alaska
Duration: 2 hours 30 minutes (approx.)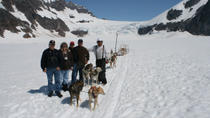 11 Reviews
Experience Alaska through the eyes of an Iditarod musher! Start with an exciting helicopter tour over the glaciers of Juneau Icefield, and then land at a ... Read more
Location: Juneau, Alaska
Duration: 3 hours (approx.)