37 Reviews
Address:

Ketchikan 99901, USA

Hours:

Admission:

Adults: US$3 from May - Sept
Mendenhall Glacier
Alaska's famous drive-in glacier, Mendenhall Glacier, is Juneau's most popular attraction, flowing 12 miles (19 kilometers) from its source, the Juneau Ice Field. On a sunny day it's beautiful, with blue skies and snow-capped mountains in the background. On a cloudy and drizzly afternoon, it can be even more impressive, as the ice turns shades of deep blue.
Near the face of the glacier is the visitors center, which houses various glaciology exhibits, a large relief map of the ice field, an observatory with telescopes and a theater that shows the film, Magnificent Mendenhall. Outside you'll find a salmon-viewing platform overlooking Steep Creek, as well as 6 hiking trails, including a short photo-overlook trail to a longer trek up the glacier's west side. Another trail, the East Glacier Loop trail leads through the forest for views of a waterfall near the glacier's face. Though a little steep, it's perfect for school-age children. More experienced hikers should try the West Glacier Trail, which follows the edge of the lake and glacier, providing access to the ice itself.
Practical Info
Mendenhall Glacier is located just outside Juneau, at the head of Glacier Spur Road. You can reach the visitors center by bus, taxi, or car. The city bus drops visitors a mile and a half from the visitor center. Those choosing to walk should be prepared for changing weather conditions.
If you're coming by car, take Egan Drive and turn right at Mendenhall Loop Road. Mendenhall Loop Road turns into Glacier Spur Road and ends at the visitor center. The parking lot has great views across the lake to the glacier's face.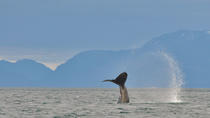 207 Reviews
While in port in Juneau, make the most of your time with this combo tour that includes a city sightseeing tour, whale-watching cruise and Mendenhall Glacier ... Read more
Location: Juneau, Alaska
Duration: 5 hours 30 minutes (approx.)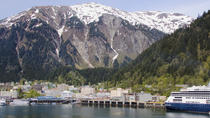 54 Reviews
While you're in port in Juneau, see the area's top attractions on a sightseeing and nature shore excursion that combines historical landmarks with ... Read more
Location: Juneau, Alaska
Duration: 3 hours 30 minutes (approx.)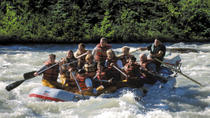 16 Reviews
While visiting Juneau, get up close to Alaska's impressive Mendenhall Glacier on this exciting 3.5-hour rafting tour. Sit back and have fun as your guide ... Read more
Location: Juneau, Alaska
Duration: 3.5 hours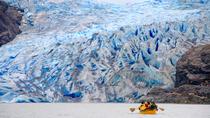 7 Reviews
Experience the magnificent Mendenhall Glacier, Mendenhall Lake, and Nugget Falls from a series of unparalleled vantage points via land and water on Southeast ... Read more
Location: Juneau, Alaska
Duration: 6 hours 30 minutes (approx.)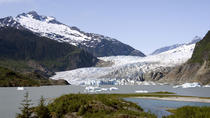 Enjoy this narrated city tour with a trained local Alaskan guide. Natives of Juneau will regal you with stories from local history that stretches back 10,000 ... Read more
Location: Juneau, Alaska
Duration: 4 hours (approx.)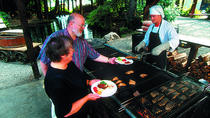 5 Reviews
View one of Mother Nature's most amazing treasures, the Mendenhall Glacier. Then, feast on wild Alaskan salmon and chicken along with a variety of side dishes ... Read more
Location: Juneau, Alaska
Duration: 3 hours 30 minutes (approx.)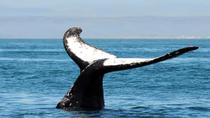 6 Reviews
Want to see the best Juneau has to offer in one day? First, get an up-close look at the ice wall at Mendenhall Glacier. Then, board a jet boat for a ... Read more
Location: Juneau, Alaska
Duration: 6 hours (approx.)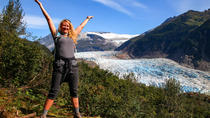 2 Reviews
This adventurous small-group hiking tour takes you on Juneau's West Glacier trail and end at the famous Alaskan Brewing tasting room. You move through lush ... Read more
Location: Juneau, Alaska
Duration: 5 hours 30 minutes (approx.)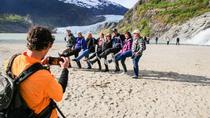 Experience gorgeous nature and capture amazing photographs during this 4-hour small-group hiking and smartphone photography tour of Mendenhall Glacier, outside ... Read more
Location: Juneau, Alaska
Duration: 4 hours (approx.)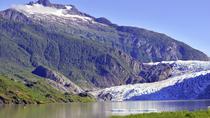 28 Reviews
Get from Juneau to Mendenhall Glacier and back quickly and at your convenience. With shuttles departing from the port every 30 minutes during operating hours, ... Read more
Location: Juneau, Alaska
Duration: Varies