Travel to Russia and be witness of the most important sporting event in history. You will have the opportunity to watch the best football players of the world ...
Location: Kaliningrad, Russian Federation
Duration: 4 days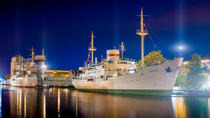 Scientific-research vessel VITYAZ. The research vessel Vityaz is a legendary ship in the history of oceanography; she made an outstanding contribution to the ...
Location: Kaliningrad, Russian Federation
Duration: Flexible