Kampala RECOMMENDATIONS See all
Ways to Experience Buganda Culture in Kampala
By Viator, May 2018
No reviews, be the first!
The Buganda Kingdom is an East African subkingdom located on the northern shores of Lake Victoria in present-day Uganda. The kingdom was founded in the latter half of the fourteenth century, and by the nineteenth century, it had become one of the biggest and most powerful kingdoms in East Africa. Unlike many of Africa's old kingdoms, the Buganda royalty were adamantly held to their political identity, and today, it's the largest kingdom in modern-day Uganda.
Before you can appreciate modern Buganda culture, you have to look to its past. Contrary to its name, the UNESCO-listed Kasubi Royal Tombs remain an important religious site to Uganda's Buganda population. The round central structure houses the tombs of four past Buganda kings.
Head 20 miles (32 kilometers) north of the city, and you'll find Naggalabi, not only the birthplace of the Buganda kingdom from the fourteenth century but also the coronation site used by today's Buganda royalty.
The Ndere Center in Kampala hosts traditional music and dance performances by the Ndere Troupe throughout the week—a great opportunity to experience a slice of Buganda culture in the capital city.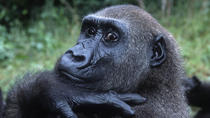 The 8 Days Uganda Wildlife safari starts with a visit to Murchison falls National Park Uganda to see the magnificent roaring falls where the world's longest ... Read more
Location: Kampala, Uganda
Duration: 8 days (approx.)
Pick up from your place of residence as early as 8:00 A.M, and travel to Entebbe, our first stop over is the Independence Monument. After the Independence ... Read more
Location: Entebbe, Uganda
Duration: 1 day (approx.)
The Greater Kampala City, that originally had seven hills now comprises of 20 hills. Kampala is the capital city of Uganda, which is known as the "pearl of ... Read more
Location: Kampala, Uganda
Duration: 1 day (approx.)
Experience Uganda's best and unique safari. Our 15 days takes through Kibale for the greatest Chimpanzee experience, Kidepo Valley for a unique game drive ... Read more
Location: Kampala, Uganda
Duration: 15 days (approx.)
You are expected to arrive a night before the safari or have an early morning landing. Your driver/guide will pick you and depart for Bwindi Impenetrable ... Read more
Location: Entebbe, Uganda
Duration: 3 days (approx.)
This safari takes you to the mighty Murchison Falls. Expect big five sighting but the highlight is the boat trip to base of the falls and a hike (if you like) ... Read more
Location: Kampala, Uganda
Duration: 3 days (approx.)
You will arrive and overnight in a booked hotel (in Kampala or Entebbe). The next day, you will head to the Murchison with a detour visit to Zziwa Rhino ... Read more
Location: Kampala, Uganda
Duration: 5 days (approx.)
Your safari will start from the hotel or the airport. You will drive off to Queen Elizabeth National Park. Expect chimp trekking in the impressive Kyambura ... Read more
Location: Kampala, Uganda
Duration: 5 days (approx.)
This safari takes you to Murchison Falls NP. Expect the roaring rapids of the Murchison, the rolling plains of Uganda's largest National Park with abundance of ... Read more
Location: Kampala, Uganda
Duration: 6 days (approx.)
This safari takes you to the Murchison Falls NP. The highlights of this park include: the roaring rapids of the Murchison, the rolling plains of Uganda's ... Read more
Location: Kampala, Uganda
Duration: 6 days (approx.)