Day 1: Flinders Chase National Park
Flinders Chase National Park on the western end of Kangaroo Island deserves its own day of exploration. Start the day at the Flinders Chase National Park Visitors Centre and pick up some information about walks in the park before beginning on the Platypus Waterholes Walk. Walk completed, jump in the car and head south to Admirals Arch. Spend some time admiring the New Zealand fur seals beneath this magnificent stone structure before moving on to Remarkable Rocks. From here, hightail it up to Cape Borda Lightstation for an afternoon tour.

Day 2: Wildlife Galore
Didn't spot much wildlife yesterday? Never fear! Today starts back on the western end of the Island, but it isn't long before you head east. The Hanson Bay Wildlife Sanctuary is up first, the self-guided Koala Walk your destination. Eat a leisurely lunch at the visitors center before heading 5 minutes up the road to the 2:15 adventure tour of the Kelly Hill Caves. Finish the afternoon enjoying the short hikes around the area. The day draws to a close as you make your way to Seal Bay Conservation Park for the spectacular sunset tour.

Day 3: History in Kingscote
Stick closer to Kangaroo Island's main town and be rewarded with rich history. Just north of Kingscote lies Reeves Point. The initial location for South Australia's capital city, Reeves Point is home to an old cemetery and the Hope Museum. A mulberry tree nearby was planted by the original settlers and still yields fruit today. End the day with a relaxed tour to view Kingscote's Little Penguin population after dusk.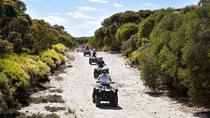 4 Reviews
Explore an otherwise inaccessible part of Kangaroo Island on a guided ATV tour through open grassland, native bush and rocky terrain. Master the controls of ... Read more
Location: Kangaroo Island, Australia
Duration: Varies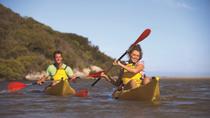 Kayak down the Harriet River on a relaxing and leisurely half-day excursion on Kangaroo Island. All equipment and directions are provided by experienced staff ... Read more
Location: Kangaroo Island, Australia
Duration: Varies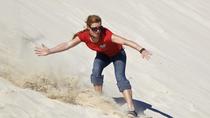 When visiting Kangaroo Island, head to Vivonne Bay to try sandboarding, a sport like surfing, snowboarding or skateboarding but performed on sand dunes instead ... Read more
Location: Kangaroo Island, Australia
Duration: 2 hours (approx.)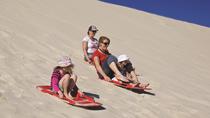 When visiting Kangaroo Island, try tobogganing on the sand dunes of Vivonne Bay. Your 2-hour toboggan rental includes access to the Little Sahara, a private ... Read more
Location: Kangaroo Island, Australia
Duration: 2 hours (approx.)