Kangaroo Island RECOMMENDATIONS See all
Exploring Kangaroo Island's Wildlife
By Viator, December 2013
No reviews, be the first!
Kangaroo Island is a wildlife wonderland. One of the most diverse communities of native wildlife in Australia, it's not only brilliant for our native species and conservation, but also for the visitors that come to see the best that Australia has to offer.
To get the best Kangaroo Island experience, you'll want to spend at least one night on the island – whilst it's covered (and surrounded!) by wildlife, to do it justice you'll need more than a single day. Start with Flinder's Chase National Park. The park covers most of the western end of the island and packs a whole lot of wildlife into a relatively small area. The Platypus Waterhole Walk that leaves from the Flinder's Chase Visitor Center gives you the opportunity to spot not only the elusive platypus, but it also takes you through numerous other habitats. You should be able to see geese, wallabies, echidnas, goannas and more on just this one short walk. Of course, any of the bush walks in the park is likely to yield wildlife sightings, even if it's just the amazing array of birdlife that lives on Kangaroo Island.
Once you've satisfied yourself with the land animals of Flinder's Chase, head to Admirals Arch. This stunning rock formation is still in the park, but offers you sightings of a whole different kind of wildlife. On the rocks around the base of the massive arch lives a loud and playful colony of New Zealand fur seals. As an added bonus – dolphins and migrating whales can be spotted from any of the ocean-facing lookouts within the national park.
Leaving Flinder's Chase National Park, head along the south coast. The Hanson Bay Wildlife Sanctuary is your first stop, with an aptly named Koala walk that offers you the chance to see dozens of one of Australia's favourite animals. The park also runs a nocturnal walk, with a guide pointing out possums, bats, and more. A little along the coast from Hanson Bay is the Seal Bay Conservation Park. Unlike the fur seals of Admiral's Arch, these sea lions are Australian through and through, and you can even walk on the beach amongst them on a guided tour!
Don't fret when it's time to head back towards Kingscote. Clifford's Honey Farm just outside the township has a working hive of the rare Ligurian bee on display. Whatever your chosen wildlife experience of Kangaroo Island, finish it with a dusk tour from Kingscote to see the resident Little Penguin colony return from their fishing trips at dusk.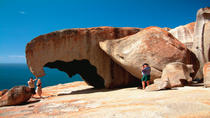 30 Reviews
Take two days to discover the wildlife of Kangaroo Island from Adelaide. You'll see pelicans, sea lions, koalas and, of course, kangaroos, and experience ... Read more
Location: Adelaide, Australia
Duration: 2 days (approx.)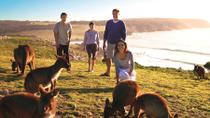 5 Reviews
Combine wildlife and wine-tasting on a five-day tour of Adelaide and Kangaroo Island. Visit wineries in the Barossa Valley wine region, take a scenic drive ... Read more
Location: Adelaide, Australia
Duration: 5 days (approx.)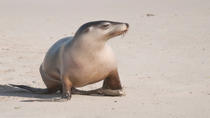 2 Reviews
Explore Kangaroo Island on a two-day small-group wildlife safari by 4WD. You'll see koalas, kangaroos and sea lions on Kangaroo Island, South ... Read more
Location: Adelaide, Australia
Duration: 2 days (approx.)