Chisapani Tours
Chisapani, often also called Chisopani, is located at 2,200 meters right at the edge of Shivapuri National Park and hikers often use the small village as a rest spot on their long hikes when crossing the park from either Budhanilkantha or Sundarijal. To be honest, the little village itself doesn't have much to offer and has often been described as basically not much more than an insignificant truck stop on a hilltop. It is true that apart from a few less than pretty concrete houses and hotels, there isn't much else, but then again, what draws people to Chisapani isn't any fancy architecture but the views, which stretch all the way from the Everest in the east to the Annapurna in the west. Many hikers prefer to spend a night here over making only a quick stop, as sunrises and sunsets up in the little village are spectacular and offer an especially nice view over the valley during the famous golden hour, when the whole landscape is bathed in a soft, glowing light and the mists are lingering.
Hiking up to Chisapani isn't easy though and the trails include many steep climbs and descents until one reaches the final destination at 2,200 meters. The name Chisapani means "cold water," a name derived from the cool mountain streams having their origins in these mountains. The surroundings make all the sweat and workout to this chilly altitude worth it though and on the trek through the national park, hikers can see the varied plant life of the subtropical as well as temperate climates. Himalayan black bears, leopards, civets and many other species have found their home among the oaks and pines and observant visitors might even be able to spot some of the shy wildlife in the forests.
Please note that the village of Chisapani suffered damages in the earthquakes and subsequent aftershocks in Nepal in late April and early May 2015. Authorities have said they will do all they can to restore historic and cultural sites in Nepal and are assessing the extent of damages.
Practical Info
Although you can reach Chisapani by road from Sundarijal via Manichur, most people go up there by hiking through Shivapuri National Park. To get there, take the bus from Kathmandu to either Sundarijal or Budhanilkantha and start you hike from there. The different routes vary in length, but the hikes are fairly long at anything between 14 and 22 kilometers.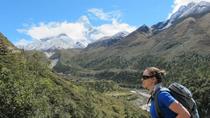 3 Reviews
Embark on a 4-day adventure through the gorgeous countryside surrounding Kathmandu, including three days trekking with a daypack from Shivapuri National Park ... Read more
Location: Kathmandu, Nepal
Duration: 4 days (approx.)