Namche Bazaar Tours
Namche Bazaar is one of several regular stops for people making the trek to Everest Base Camp and hikers usually get here on the second day of their trip. Because of its location at 3,440 meters, many people start experiencing the first signs of altitude-sickness, which is why it is recommended to stay two or even several nights in Namche Bazaar to acclimatize. Nestled into a crescent shaped slope, the town is both charming and exhausting. The village is located on an important intersection of trails, each one of them incredibly steep and it is because of this central location, that the town is able to meet the needs of both the prospering locals and exhausted travelers. In a way, Namche has always been a sort of unofficial capital of the Khumbu region. 
As the name suggests, Namche Bazaar is a market town. Once it was a trading center, where grain from the south was traded for salt from Tibet, and today, the trading tradition is still upheld with a weekly, colorful market where produce, electronics and utensils of daily life are laid out for shoppers to rifle through. Open every day of the week are the countless shops in the houses with the bright blue, green and red roofs, selling mainly trekking gear, Tibetan handicrafts, local wool and basic necessities such as sun block, toilet paper or batteries. While many people decide to rest or do some last-minute shopping for provisions, there is actually quite a bit to see and do around Namche Bazaar. A Sherpa Museum gives valuable insight into Sherpa culture and a museum of local medicine plants teaches about traditional Tibetan herbal medicine. Additionally, the Namche Monastery offers lots of Buddhist traditions, frescoes and a shrine. In Namche Bazaar, trekkers can also get one of the first good glimpses of the imposing, snow-covered Mount Everest at a nice viewpoint just above the village.
Please note that the town of Namche Bazaar suffered some damages in the
earthquakes and subsequent aftershocks in Nepal
in late April and early May 2015. Namche Bazaar was extremely close to the epicenter of the second earthquake on May 12, and hundreds of homes were damaged and destroyed. Most tourism facilities remained intact.
Practical Info
Namche Bazaar is located in the extremely remote Khumbu region of Nepal and it is therefore only possible to reach the town on foot or by helicopter. To get there, fly into Lukla and from there, it's a two day hike up to Namche Bazaar. Experienced mountaineers can do the trip in one day, but because of the high altitude, it is important to give yourself enough time to acclimatize.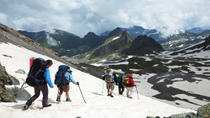 3 Reviews
Catch stunning panoramic views of Mt Everest on this 5-day tour, including four days trekking through the Himalayan region. You'll stay at teahouses in the ... Read more
Location: Kathmandu, Nepal
Duration: 5 days (approx.)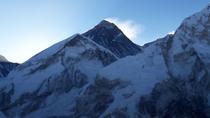 Everest Base Camp Trekking is a challenge and great an achievement. A dream trip to everyone, Everest base camp trek is 13 days trekking in Nepal which offers ... Read more
Location: Kathmandu, Nepal
Duration: 16 days (approx.)