Sauraha Village Tours
Sauraha was once a tiny, rural village in the humid marshes and thick forests in the Terai Region of Nepal, but since it started serving as the gateway to the Chitwan National Park, it has experienced an ever rising influx of tourists. Most of them come to see the nearly extinct king of the jungle, the Bengal tiger, as well as rhinos, leopards and other jungle wildlife. It's still a village, but a fast growing one and mainly caters to the many visitors with a wide array of hotels, guesthouses, lodges, internet cafés and shops.
Despite the touristy edge, there is more to do than simply wandering the streets in search of the next souvenir. Sauraha is separated from the national park by the river Rapti, which can be explored on canoes or, when the water is low enough during the dry season, by walking along the sand banks and beaches. Several traditional Tharu villages can be reached on foot or by bicycle. The Tharu ethnic group, who has lived in isolation until just a few decades ago, is especially well known in the scientific community for having a resistance to malaria. This genetic oddity, together with some architectural means, let them live and thrive in the mosquito-infested forests for hundreds of years, way before malaria suppression programs started in the 1950s, while any other settlers or intruders would usually soon succumb to the deadly illness.
But although there is quite a bit of traditional village life to be discovered in the surrounding area, Sauraha Village is mainly used as a base for extended explorations into the adjoining Chitwan National Park. Visitors can arrange a wide array of excursions, from jungle walks and jeep safaris to animal spotting on canoe tours. And you might just spot the elusive king of the jungle in the dense foliage.
Practical Info
Sauraha Village is located about 160 kilometers from the capital Kathmandu and 150 kilometers from Pokhara in the very south of Nepal close to the border to India. Buses depart from both cities early in the morning, on Kantipath Road outside Thamel in Kathmandu and from the main bus stop in Pokhara. The bus will drop visitors off in a field outside the village, where hotel, hostel and guesthouse jeeps will wait to take them the rest of the way. The nearest airport is Bharatpur, which is about 10 kilometers away and will require taking a taxi the rest of the way.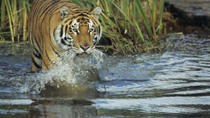 3 Reviews
Go on safari to the UNESCO World Heritage-listed Chitwan National Park, a former royal hunting reserve that became Nepal's first national park in 1973. ... Read more
Location: Kathmandu, Nepal
Duration: 4 days (approx.)