The sheer number of temples located in Kathmandu and the surrounding valley has given it the nickname "City of Temples." You could easily spend your entire trip hopping from one temple to the next, but here are five you definitely shouldn't miss.

1. Bodhnath Stupa

Bodhnath Stupa, besides being one of the largest stupas in the world, is the most important and holiest Tibetan Buddhist site outside of Tibet. The white 14th century structure is said to house a bone once carried by the Buddha. Worshippers come here to circumambulate the stupa while spinning prayer wheels and praying to the 108 small images of the Buddha surrounding the structure.

2. Swayambhunath

Even if you're not big on temple visits, making your way southwest of Kathmandu to Swayambhunath Temple is worth it for the stunning views of the city below. This Buddhist temple, nicknamed Monkey Temple by locals due to the large population of monkeys that call the complex home, is instantly recognizable by its golden spires with ominous-looking eyes painted on them.

3. Pashupatinath

Located just east of Kathmandu on the banks of the Bagmati River, the Pashupatinath temple is dedicated to the Hindu god Shiva and is best known for its magnificent architecture. The two-story pagoda structure houses a sacred phallic symbol, or linga, of Shiva, making it one of the most important Hindu temples in Nepal and the most important Shaivite temple in the subcontinent. Pashupatinath is also the site of the most-used cremation spot in the Kathmandu Valley.

4. Changu Narayan

Changu Narayan, perhaps the oldest temple in the Kathmandu Valley, is a feast for the eyes. The ancient structure has origins reaching back as far as the fourth century and houses one of the best collections of ancient stone sculptures in Nepal in its surrounding gardens. The carved wooden roof struts of this temple dedicated to Vishnu depict many important and lesser-known tantric deities.

5. Dakshinkali

For a truly unique cultural experience, those with a strong stomach should visit Dakshinkali Temple on a Tuesday or Saturday, when Nepalese Hindus come to sacrifice animals to the bloodthirsty goddess Kali. You can't enter the temple proper if you're not Hindu, but you can enjoy the market stalls along the path leading to the temple or take in the festive atmosphere as families picnic on the grounds surrounding the temple.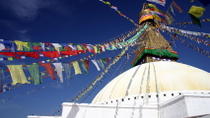 4 Reviews
Immerse yourself in Kathmandu's spiritual traditions during visits to the Hindu temple Pashupatinath and the Tibetan Buddhist stupa Bodhnath, both UNESCO World ... Read more
Location: Kathmandu, Nepal
Duration: 4-5 hours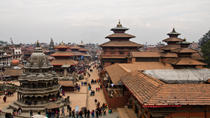 3 Reviews
Experience Kathmandu like a local on this small-group cultural walking tour. Visit the oldest Buddhist stupa in Nepal, Swayambhunath, and explore one of the ... Read more
Location: Kathmandu, Nepal
Duration: 5-6 hours
1 Review
On this 8-hour private tour, visit three of the most important religious sites in Nepal. Your tour will cover the Kopan Monastery and the two UNESCO World ... Read more
Location: Kathmandu, Nepal
Duration: 8 hours (approx.)