Menehune Fish Pond Tours
The Menehune Fishpond is scenic—set amid lush jungle where craggy mountains are close enough to frame the edges of a killer sunset photo shot. But this giant pool of green-brown water has been attributed mythical qualities that are evident even in its name. Menehune is a mysterious race of little people—some say they're like Hawaiian leprechauns—that have been credited with building sites throughout the Hawaiian Islands swiftly and stealthily. Legend has it they built this particular 39-acre loko wai (freshwater pond) by passing stones to each other from the village of Makaweli more than two dozen miles away, damming up the Hule'ia River with walls 900 feet long and five feet tall. In a single night. To get up close and personal with the work of the Menehune, join a kayak tour of the Hule'ia—it's the only way to gain access into the otherwise off-limits Hule'ia National Wildlife Refuge that surrounds the pond. Fishponds like this one are found throughout the Hawaiian Islands and were used to store and easily retrieve fish for the alii or ruling class. And, the Menehune Fishpond is one of the best preserved examples of a Hawaiian freshwater fishpond still in existence today.
Practical Info
The best place to see the Fishpond quickly is from the Alekoko Scenic Overlook off Halemalu Road, about ½ mile from the Nawiliwili small boat harbor and just outside of Lihue. Kayak tours that visit the fishpond also often include a short hike to Hidden Valley Falls.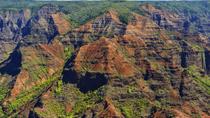 25 Reviews
A private tour of Kauai's Waimea Canyon provides closer views of nearby waterfalls than bigger coach tours can access. You'll enjoy great photo ops of Waipo'o ... Read more
Location: Kauai, Hawaii
Duration: 7 hours (approx.)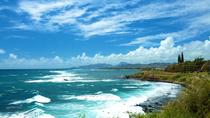 6 Reviews
See the best of Kauai on this private tour! Choose to see the East and North shores or the West and South shores and explore cities like Princeville, Kapaa, ... Read more
Location: Kauai, Hawaii
Duration: 6 hours (approx.)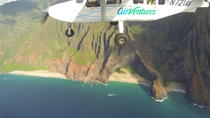 61 Reviews
The only way to see the entire garden island of Kauai is by plane on a Kauai air tour! Enjoy the breathtaking scenery of Kauai from a new Airvan aircraft, and ... Read more
Location: Kauai, Hawaii
Duration: 70 minutes (approx.)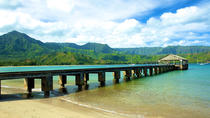 1 Review
An incredible single-day tour of Kauai's north and east shores. Learn about the island from an our expert guides as you explore lush waterfalls, scenic ... Read more
Location: Princeville, Hawaii
Duration: 7 hours (approx.)