Kauai Waterfalls
By Viator, September 2014
Kauai has no shortage of sun and sand, but it also has the third highest level of rainfall of anyplace on the planet -- and that means waterfalls. As with the rest of Hawaii, Kauai was created from volatile volcanic forces forming a landscape complete with mountainous terrain, massive canyons (Waimea Canyon is dubbed "The Grand Canyon of the Pacific") and sheer cliffs. Along with a trip to the beach, no visit to the Garden Isle is complete without sampling its extraordinary profusion of waterfalls.

Wailua Falls

Made iconic by its appearance in the opening credits of Fantasy Island, Wailua is what comes to mind when you think of picturesque Hawaiian waterfalls. The falls are 80 feet of rushing water descending from a sheer cliff, flowing into the Wailua River. Although there is a path to the bottom of the falls, it is a precarious path best avoided by all but the most sure-footed. Fortunately, there are parking and viewing areas to the south where the view is no less stunning.

Opaeka'a Falls

The backdrop to Elvis Presley in Blue Hawaii, Opaeka'a Falls is 151 ft (46 m) high and an astonishing 40 ft (12 m) wide, pouring into a volcanic slab of basalt and surrounded by lush greenery. Located on the south end of Kapaa Town, Opaeka'a can be seen from the highway as well as from a little known trail. The trail is a bit treacherous, so be cautious if you choose to venture forth.

Hanakapi'ai Falls

If you're up for a little more adventure, Hanakapi'ai Falls is well worth the trek. The trail to the falls is not for beginners and the final leg of the hike is a strenuous multi-hour trek, but the view will reward the effort. The route is slippery and muddy, with multiple stream crossings and steep cliffs, and a valid state permit is required. Challenges notwithstanding, Hanakapi'ai is one of the best waterfalls and pools on the island.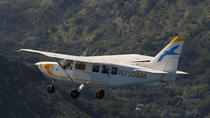 60 Reviews
See Kauai on a deluxe sightseeing flight! For approximately an hour, you'll enjoy Kauai's stunning scenery from the air, as you explore this Hawaiian island, ... Read more
Location: Lihue, Kauai
Duration: 65 minutes (approx.)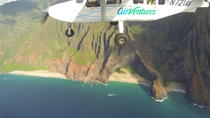 51 Reviews
The only way to see the entire garden island of Kauai is by plane on a Kauai air tour! Enjoy the breathtaking scenery of Kauai from a new Airvan aircraft, and ... Read more
Location: Kauai, Hawaii
Duration: 70 minutes (approx.)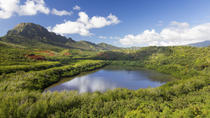 7 Reviews
For a fun kayaking Kauai activity, paddle tandem kayaks along the Hule'ia River and travel deep into the heart of the Kauai island jungle. Then, go Kauai ... Read more
Location: Kauai, Hawaii
Duration: 4 hours 30 minutes (approx.)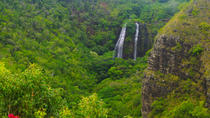 36 Reviews
Fly from Oahu to Kauai to explore the lush island's natural beauty, including Kauai's famously scenic Waimea Canyon, nicknamed 'Grand Canyon of the Pacific.' ... Read more
Location: Waikiki, Oahu
Duration: 15 hours (approx.)