Near the southern tip of the Alaskan panhandle is the city of Ketchikan,
renowned for its wild, untouched Alaskan landscapes of
fjords, valleys, mountains, and glaciers
. While you'll be able to enjoy the scenery from any vantage point, roads are tricky in this remote area and even boat cruises only show part of the story. For the ultimate experience, hop on an aerial seaplane tour. Designed to take off and land in water, seaplanes offer an unforgettable experience and the ability to look down from above and take in aerial views of the captivating scene below.
On a seaplane flight, everyone gets a window seat and your knowledgeable pilot will point out natural features over the headset. Get an all-encompassing view of the
Misty Fjords National Monument, a
2.3-million-acre (920,000-hectare) piece of untamed wilderness
full of mirror lakes, roaring waterfalls, soaring peaks, and misty glacier-carved gorges. Keep your eyes peeled for wildlife, as you may be able to spot brown bears, mountain goats, harbor seals, and humpback whales from above.
Other sights include the Behm Canal, Saxman Totem Park, Alexander Archipelago's many islands, and Totem Bight Historical Park. As you look down from the sky, try and spot the park's ornately-carved totem polls in the parks.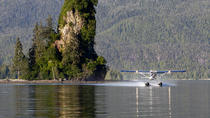 22 Reviews
Discover the spectacular scenery of Misty Fjords National Monument from the air on an aerial tour from Ketchikan aboard a floatplane. Home to more than 2 ... Read more
Location: Ketchikan, Alaska
Duration: 2 hours (approx.)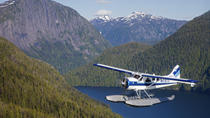 8 Reviews
Combine two quintessential Alaskan experiences — a floatplane ride and a Dungeness crab feast — on this memorable tour from Ketchikan. Start with a ... Read more
Location: Ketchikan, Alaska
Duration: 2 hours 30 minutes (approx.)