Ketchikan is renowned for its wild, untouched Alaskan landscapes. While you'll be able to enjoy the beautiful scenery from any vantage point, one unique way to explore the area is by seaplane. Seaplanes are aircrafts designed to take off and land from water, so getting to be a passenger on one is an interesting experience in itself. The enjoyment is heightened as you look down from above and take in aerial views of the captivating landscape below.
For those interested in seeing the Misty Fjords National Monument, a
90-Minute Fjords National Monument Tour from Ketchikan
is a great choice. The Misty Fjords National Monument is a 2.3-million-acre (920,000-hectare) piece of untamed wilderness, and seeing it allows you to experience untouched Alaska. Even better, you'll get to see it from the air, a vantage point that allows you to take in the entire sight -- including mirror lakes, majestic waterfalls, high peaks and dramatic glacier-carved gorges --in one all-encompassing view. Make sure to keep your eyes peeled for wildlife, as you may be able to spot brown bears, mountain goats, harbor seals and humpback whales.
A
30-Minute Seaplane Spectacular Tour from Ketchikan
is another great seaplane tour option, especially for those who want to see Totem Bight Historical Park, Saxman Totem Park and Alexander Archipelago's many islands from above. Just as with the previous tour, you'll be able to enjoy Alaska's pristine wilderness landscapes and wildlife as you soar through the Behm Canal. You'll also experience local heritage through the Totem Bight Historical Park and Saxman Totem Park, two attractions dedicated to preserving and showcasing Native American culture. As you look down from the sky, see if you can spot the ornately-carved totem polls in the parks.
If you're arriving into Ketchikan from a cruise you can still enjoy the above two excursions via a
Ketchikan Shore Excursion
. Best of all, the tours are operated under a Worry Free Guarantee, meaning if your ship is delayed and you end up having to miss the tour your money will be refunded. Moreover, in the rare event the tour runs over and you miss your ship's departure they will arrange transportation to you next port of call.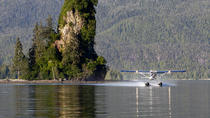 22 Reviews
Discover the spectacular scenery of Misty Fjords National Monument from the air on an aerial tour from Ketchikan aboard a floatplane. Home to more than 2 ... Read more
Location: Ketchikan, Alaska
Duration: 2 hours (approx.)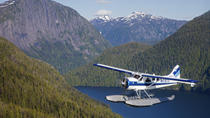 8 Reviews
Combine two quintessential Alaskan experiences — a floatplane ride and a Dungeness crab feast — on this memorable tour from Ketchikan. Start with a ... Read more
Location: Ketchikan, Alaska
Duration: 2 hours 30 minutes (approx.)