Key West may be known as a party destination, but one of the best ways to meet some of the most colorful inhabitants is by getting under the water. Home to the third largest coral reef in the world and, arguably, the best diving in the United States, Key West is a destination for both experienced divers and those folks who are just dipping their fins in the water for the first time.
For beginning snorkelers or those who want to stay near the surface of the waves, there are plenty of opportunities to observe the various aquatic denizens that live near Key West. If you're looking for a laid-back snorkeling experience, consider renting a mask, fins and snorkel from one of the many shops and head out to one of Key West's public beaches for snorkeling right off shore. Higgs Beach offers opportunity near the pier; Fort Zachary Taylor State Park also has excellent snorkeling right from the beach.
Other excellent snorkeling spots can be found off the shore. Located a bit further afield, but worth the excursion, is the
Dry Tortugas National Park
. The National Park, made up of seven small islands, is situated in the middle of the coral reef and offers some of the best snorkeling in Key West. Many tour companies offer snorkeling excursions for either half or full day that focus on reef viewing or even exploring shipwrecks. If you're looking for the opportunity to get up close and personal with Key West's most friendly residents, dolphins, check out a
tour that includes a dolphin encounter with the snorkel excursion.
Certified SCUBA divers will delight in the underwater offerings near Key West. Due to the history of the islands, Key West is a popular site for wreck diving. While the pirate ships have long since disintegrated under the water, many decommissioned military vessels and other structures have been deliberately sunk to provide new habitats for coral, fish and other wildlife.
Joe's Tug, a steel harbor tugboat sunk in 1989, was originally destined for Miami but ended up a few miles from Key West due to suspicious circumstances (depending on the storyteller, either a rum-swigging fisherman or a local pirate put it in its current resting place). The Cayman Salvage Master, which played a role in transporting Cuban refugees in the late 1970s and early 1980s, is one of Key West's most popular dive spots. This steel-hulled buoy tender rests in about 90 feet of water, providing a haven for goliath grouper, bar jacks and silversides.
The most recent addition to Key West's wreck diving line-up is the Vandenberg. Once a missile-tracking ship utilized for monitoring space launches off of Cape Canaveral and Soviet missile launches during the Cold War, the Vandenberg was sunk on May 27, 2009 in about 150 feet of water. At the time of its sinking, it was the second largest vessel in the world ever purposely sunk to become an artificial reef and is now home to numerous forms of sea life, such as goliath grouper and barracuda.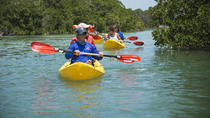 94 Reviews
Beautiful Key West is surrounded by the sparkling blue waters of the Gulf of Mexico, making it perfect for day of fun in the sun. On the Island T'ing ... Read more
Location: Key West, Florida
Duration: 6 hours (approx.)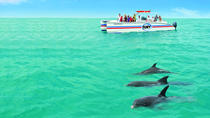 44 Reviews
Get in touch with one of nature's friendliest mammals on this relaxing 3-hour dolphin cruise from Key West. Sail alongside playful dolphins and take in the ... Read more
Location: Key West, Florida
Duration: 3 hours (approx.)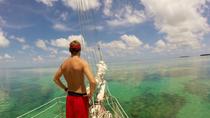 9 Reviews
This full day excursion from Key West includes all the fun things to do in the ocean - kayaking, snorkeling and sailing! You will head way back into the Key ... Read more
Location: Key West, Florida
Duration: 6 hours 30 minutes (approx.)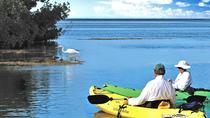 7 Reviews
Escape the ordinary - only 15 minutes from busy downtown Key West, Geiger Key is a pristine paradise. For easy paddling, we select the best route depending on ... Read more
Location: Key West, Florida
Duration: 2 hours (approx.)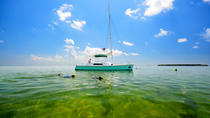 2 Reviews
Combine three Key West activities on this eco-adventure by chartered catamaran. Sail to the Key West National Wildlife Refuge for a guided kayaking tour of ... Read more
Location: Key West, Florida
Duration: 4 hours 30 minutes (approx.)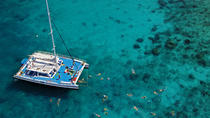 9 Reviews
Get ready for the water adventure of a lifetime with Fury's Ultimate Adventure! Reserved for the real water sports enthusiast, this action packed day includes ... Read more
Location: Key West, Florida
Duration: 6 hours (approx.)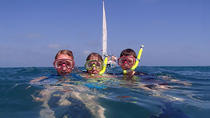 3 Reviews
Whether you're an experienced snorkeler or you want to try something new and exciting, you'll find Key West to be the perfect destination for fun in the ocean. ... Read more
Location: Fort Lauderdale, Florida
Duration: 15 hours (approx.)
389 Reviews
No visit to South Florida is complete without a journey to Key West! There are plenty of ways to enjoy your time on this culturally and history-rich island. ... Read more
Location: Miami, Florida
Duration: 12 hours (approx.)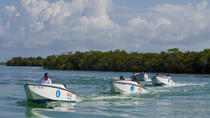 9 Reviews
Explore Key West in a fun and unique way! Avoid the crowds on this exciting snorkel safari adventure and captain your own speedboat through 25 miles of ... Read more
Location: Key West, Florida
Duration: 2 hours 30 minutes (approx.)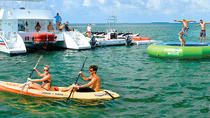 5 Reviews
If you're a cruise passenger only in Key West for a day, don't miss out on the express power catamaran, immerse yourself in nature as you swim in the warm, ... Read more
Location: Key West, Florida
Duration: 3 hours 30 minutes (approx.)