Kolkata, the former capital of the British Raj, was once the most important trade center in all of Asia, and while colonialism in the city is a thing of the past, it's left a legacy behind. No trip to Kolkata would be complete without touring a mix of Raj and Indian attractions, and the city's best include both.

Victoria Memorial

Nothing symbolizes the British Raj quite so much as the Victoria Memorial. This palatial white marble monument was built in 1901 as a tribute to the Queen following her death. Impressive from the outside alone, thanks to the interesting blend of Renaissance and Indo-Saracenic architectural elements, the monument also contains a museum displaying more than 3,500 artifacts from the British colonial period.

Mother House

Pay tribute to one of Kolkata's most beloved residents, Mother Teresa, at the Mother House. The headquarters of the Missionaries of Charity organization was also Mother Teresa's home for the 44 years she lived in the city. Visitors can see her final resting place and look in on the room where she lived, preserved just as it was when she died, with only a simple bed and a photo of her meeting with Pope John Paul II.

Belur Math Shrine

Belur Math Shrine, the headquarters of the Ramakrishna Mission, is also one of Kolkata's most interesting buildings. Just as the Ramakrishna movement teaches unity of faith between various religions, Belur Math Shrine blends architectural elements from Christian, Islamic, Buddhist and Hindu traditions. The resulting structure looks like a church, mosque and temple depending on the angle of the viewer.

Indian Museum

The Indian Museum was founded in 1814, making it the oldest museum in India and home of one of the largest art and artifact collections anywhere in Asia. Within the galleries, you'll see everything from giant dinosaur skeletons and pinned butterfly collections to Egyptian mummies and ancient Buddhist relics.

Kali Temple

Kali Temple, or Kalighat, sees more than 20,000 devotees visit each day, making it one of India's holiest pilgrimage sites. While non-Hindu visitors can't enter the main temple, you can tour the outer courtyards and surrounding temple market where the day-to-day religious life of locals plays out before your eyes.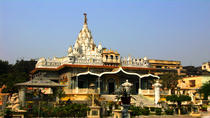 4 Reviews
Spend a day visiting Kolkata's most iconic landmarks on this private tour of the West Bengal capital. Visit religious sanctuaries such as Mother Teresa's ... Read more
Location: Kolkata, India
Duration: 8 hours (approx.)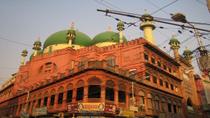 5 Reviews
Visit architecturally beautiful and historically significant places of worship on this full-day tour of Kolkata that will surely be a feast for both your eyes ... Read more
Location: Kolkata, India
Duration: 8 hours (approx.)