While Sabah isn't exactly known for its nightlife, the scene in Kota Kinabalu gets better every year, with more and more options for things to do after dark. Whether you prefer your nightlife a bit wild or slightly more sedate, you can probably find it in Sabah's capital city.

Like many cities in Asia, the night market represents a quintessential nightlife experience — one that you should make time for in Kota Kinabalu at least one. Come hungry, and start your explorations at the giant hawker center at the Northeast end of the market. Here, you'll have the entire spectrum of Malay cuisine laid out before you, and it's possible to eat your fill on only a few dollars.

As the night progresses, the waterfront promenade starts to fill up as partygoers crowd in to the dance clubs and resto-bars in the area. Bed, the prime hotspot in the waterfront district, has live music almost every night and is usually jam-packed by midnight. Another option, the pedestrian-friendly Beach Street, sits closer to the center of town, and offers another wide selection of bars and restaurants.

Wherever you decide to go out for the night, keep in mind that Malaysia heavily taxes alcohol, so drinks can get very expensive. If you're on a budget, your best bet is to choose a local eatery, where you can usually buy beers for a fraction of the cost as at the clubs. If you're with a group, check the bottle prices at the bars you visit. Sometimes, it's cheaper to buy a bottle — they always come with free mixers — to share than to buy individual drinks separately.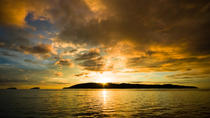 4 Reviews
Feel the dynamic heartbeat of Kota Kinabalu at night as you explore its colorful night market, enjoy its panoramic night skyline from above and dine on ... Read more
Location: Kota Kinabalu, Sabah
Duration: 3 hours (approx.)