Kazimierz (Jewish District)
Kazimierz - or Jewish District - was for a long time an independent town with its own municipal charter and laws. Its colorful history was determined by its mixed Jewish-Polish population, and though the ethnic structure is now wholly different, the architecture gives a good picture of its past, with clearly distinguishable sectors of what were Christian and Jewish quarters. The suburb is home to many important tourist sights, including churches, synagogues and museums. The western part of Kazimierz was traditionally Catholic, and although many Jews settled here from the early 19th century until WWII - for example, the main Jewish hospital was on ul Skawińska - the quarter preserves much of its original character, complete with its churches.
A tiny area of about 300m by 300m northeast of Corpus Christi Church, the Jewish sector of Kazimierz became, over the centuries, a centre of Jewish culture equal to no other in the country. With the mass deportation and extermination of the Jewish people of Kraków by the Nazis during WWII, all traces of the folklore, life and atmosphere of the quarter disappeared. Today only the architecture reveals that this was once a Jewish town, though a handful of 'themed' restaurants, complete with live klezmermusic most nights, have been opened on ul Szeroka. Miraculously, seven synagogues survived the war, but only one of them continues to function as a regular place of worship, Tempel Synagogue. Parts of the film Schindler's List were filmed in Kazimierz.
Practical Info
Today Kazimierz is one of Kraków's inner suburbs and located within walking distance south of Wawel and the Old Town. It is known for its restaurants and bars which are atmospheric rather than touristy, and also has some good places to stay. The best way to see the area is by walking tour.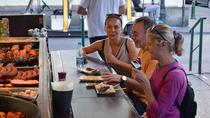 2 Reviews
Enjoy a 3-hour walking tour including 11-13 different food samples and beverages, including a shot of Polish vodka and tasting Polish craft beer at 4-5 local ... Read more
Location: Kraków, Poland
Duration: 3 hours (approx.)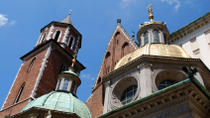 114 Reviews
For over a thousand years, Krakow has been the center of science, culture and art in Poland. Come and see for yourself upon boarding the Krakow City ... Read more
Location: Krakow, Poland
Duration: 4 hours (approx.)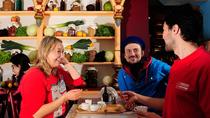 51 Reviews
Savor the flavors of Krakow on this 2.5-hour evening walking tour with a food-loving guide. Uncover Poland's rich culinary history and customs as you roam the ... Read more
Location: Krakow, Poland
Duration: 2 hours 30 minutes (approx.)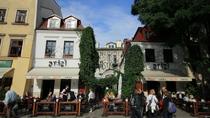 1 Review
See the hidden streets of the Jewish Quarter and hear inspiring stories of despair, bravery and love. Discover the synagogue, ritual bath houses, ancient ... Read more
Location: Kraków, Poland
Duration: 4 hours (approx.)
11 Reviews
Explore Krakow by Melex electric car and visit the UNESCO-listed Wieliczka Salt Mine with this Krakow Super Saver that combines two top-selling tours in a day. ... Read more
Location: Krakow, Poland
Duration: Wieliczka Salt Mine tour lasts 4 hours and Private Krakow Tour by Melex lasts 1,5 hours.
Our guide will show you the hidden streets of the Jewish quarter and tell you inspiring stories of despair, bravery and love. You will discover the ... Read more
Location: Kraków, Poland
Duration: 4 hours (approx.)
1 Review
Travel back in time and discover the tragic history of World War II in Krakow on this 5-hour private tour led by a licensed guide. You'll visit Kazimierz, ... Read more
Location: Kraków, Poland
Duration: 5 hours (approx.)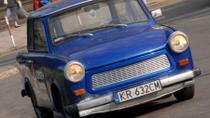 38 Reviews
The best way to tour the lovely city of Krakow is in a Trabant, the classic Eastern Europe car. You'll experience the real Krakow on this lively tour, and ... Read more
Location: Krakow, Poland
Duration: 4 hours (approx.)
Discover dignified beauty of the Royal City of Krakow and let our guide make your visit the one to always remember! Take private city walking tour and see ... Read more
Location: Kraków, Poland
Duration: 5 hours (approx.)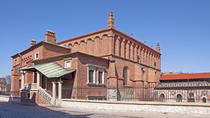 29 Reviews
Get to know Krakow's Jewish and World War II history on a walking tour of Kazimierz, the historically Jewish section of the city. With a guide, see sights like ... Read more
Location: Krakow, Poland
Duration: 3 hours (approx.)