A Trabant, a classic European car popular in communist bloc countries in the late 1950s and early 1960s, offers a retro way to see the sights of Kraków. When the Berlin Wall came down, many Germans moved west in their Trabants, making the car a symbol of the fall of communism and the failure of East Germany.

On a guided Trabant tour, you'll visit Kraków's Nowa Huta district, the city's former communist enclave where you'll see communist architecture and hear from your guide stories of life in the area.

You'll also stop at Kraków's historic burial mounds which date back to pagan times and provide a great view of the city. The Trabant will then take you to Kazimierz, Kraków's former Jewish quarter until WWII, which is now a lively neighborhood of pubs and cafés.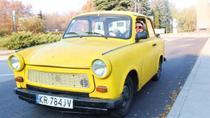 40 Reviews
The Wall may be over and done with, but many of Krakow's most famous communist artifacts are alive and well!
Location: Krakow, Poland
Duration: 2 hours 30 minutes (approx.)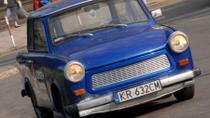 43 Reviews
The best way to tour the lovely city of Krakow is in a Trabant, the classic Eastern Europe car. You'll experience the real Krakow on this lively tour, and ... Read more
Location: Krakow, Poland
Duration: 4 hours (approx.)