In the lush, tropical rainforest an hour and a half drive from Kuala Lumpur, the Kuala Gandah Elephant Sanctuary is an ambitious conservation program implemented and managed by the Malaysian Wildlife Society. Visitors to the Sanctuary have the opportunity to come into close contact with resident semi-wild pachyderms.

At one time guests were able to interact closely with the elephants: feeding, riding and even bathing them in the nearby river. As of November 2012 these activities have been put on hold due to the enforcement of the Wildlife Protection Act 2010, which seeks to further protect elephants and wildlife all over the country.

That said, the sanctuary is still well worth a visit. You'll have the opportunity to admire and enjoy the presence of these magnificent creatures, to support the 'elephant orphanage' with your company and donations, and to watch the elephants play and work with the trainers and learn more about their conservation efforts. The staff members at the sanctuary are specially trained wildlife experts, dedicated to the protection and preservation of the Asian elephant. A 30-minute documentary on the conservation activities and programs carried out by the team is shown on site.

Another place to get up close and personal with Asian elephants is the Sungai Ketiar Elephant Sanctuary. This elephant refuge is smaller than the Kuala Gandah Sanctuary, but is doing a great job in helping to relocate orphan elephants and protect them from poachers. The Sungai Ketiar Sanctuary is located in the state of Terengganu, near Lake Kenyir, which is a beautiful attraction itself.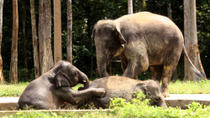 354 Reviews
Enjoy a private tour of the Kuala Gandah Elephant Sanctuary (also called the Elephant Orphanage Sanctuary), an elephant conservation center managed by the ... Read more
Location: Kuala Lumpur, Malaysia
Duration: 8 hours (approx.)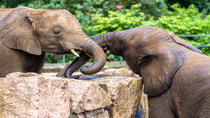 23 Reviews
Enjoy a unique cultural and wildlife experience on this tour from Kuala Lumpur. Witness the lifestyle of indigenous people at a Malaysian aboriginal settlement ... Read more
Location: Kuala Lumpur, Malaysia
Duration: 8 hours (approx.)