Malaysia is known for its thriving economy, bustling metropolises and rich history, but the scenic hillsides of cool-climate mountain stations are where visitors go to escape the thumping heartbeat of urban centers and tuck into sensational scenery and steaming cups of traditionally brewed tea. Here are a few ways to experience one of the most popular drinks in the country.
2-Day Cameron Highlands Adventure from Kuala Lumpur
This overnight adventure takes travelers straight to the source—the rolling hills of the Cameron Highlands. Visitors will drive through the waterfalls and fern trees of Tanah Rata before visiting a tea plantation and learning from local farmers about the process of taking potent leaves from farm to cup. Stops also include Sam Poh Temple and a visit to a local vegetable farm.
3-Night Cameron Highlands and Penang Tour from Kuala Lumpur
Luxury accommodation and an incredible three-night coach tour make this one of our most popular adventures. Spend some time wandering the tea plantations of the highlands before venturing to the nearby butterfly farm, where an expert guide will help identify some of the nation's rarest species. Visit the cave temple of Sam Poh Tong and the Pagoda of Ten Thousand Buddhas and even stop off at Georgetown, a UNESCO World Heritage site.
7-Day Tour from Singapore: Malacca, Kuala Lumpur, Cameron Highlands and Penang
Adventurous travelers need an entire week to experience the beauty of the region. This incredible tour starts with a relaxing train ride through Singapore and the state of Johor, which winds through rural countryside and scenic landscapes. Learn about Malacca's Dutch heritage and visit iconic sites before embarking on a journey to Kuala Lumpur. Explore the urban environment and visit temples and shrines. Then head off to the tea plantations in the Cameron Highlands. Meet with local farmers and wander the rolling hills, grown lush with the leaves that make up this nation's most popular brew. Round out the experience with a tour of Penang, including temples, mosques and bustling local markets.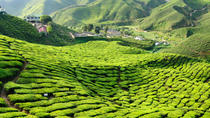 4 Reviews
Experience the highlights of Malaysia on a 3-night coach tour from Kuala Lumpur to Penang! Overnight stays include comfortable accommodation at the Strawberry ... Read more
Location: Kuala Lumpur, Malaysia
Duration: 4 days (approx.)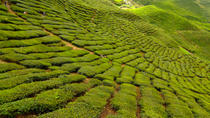 4 Reviews
While you're in Kuala Lumpur, escape from the city and take a two-day trip to Cameron Highlands, a beautiful highland resort in Malaysia. Discover the ... Read more
Location: Kuala Lumpur, Malaysia
Duration: 2 days (approx.)