Kubah National Park
Set just 22 km outside of the capital city of Kuching, the sand-stone mountains of Kubah National Park offer some of the best day trekking and plant-spotting opportunities in the immediate region. This 2,230 hectare park was opened to the public in 1995, and although myriad species of birds and mammals such as arguas pheasants and bearded pigs roam the tropical rainforest, what Kubah National Park is ultimately know for is its stunning array of plant diversity, particularly palms.

A walk down the hour-long Palmetum trail offers views of over 100 different types of palm trees, and other short walks such as the Belian Trail amble past exotic flora such as giant mushrooms, figs, durian, and rambutan. For those wanting to catch a glimpse of native Sarawak wildlife, a must visit is the Matang Wildlife Center located within the park boundaries. Here visitors can get up close and personal with playful orangutans, lazy sun bears, and curious looking civets, a cat-like mammal with similarities to a mongoose or otter. Or, if simply swimming beneath a waterfall sounds like the perfect afternoon, there are plenty of opportunities in the park for doing just that.

There is a nominal fee to enter Kubah National Park, and though located only 40 minutes from downtown Kuching, there are still opportunities available to spend a night inside of the park. Budget accommodation is available at the park headquarters, or, for a more traditional feel, spend a night in a longhouse at Matang Wildlife Center and be soothed to sleep by the surrounding calls of the jungle.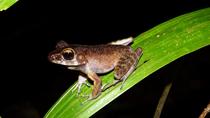 Join this 4 hour wildlife discover tour at Kubah National Park, and get up close and personal with wide range of Bornean frogs in this fascinating night walk ... Read more
Location: Kuching, Malaysia
Duration: 4 hours (approx.)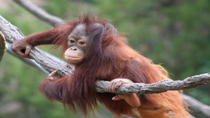 3 Reviews
If you want to see an Orangutan, the Matang Wildlife Center is one of the best place to see these cuddly animals.
Location: Kuching, Sarawak
Duration: 6 hours 30 minutes (approx.)
Enjoy this full-day excursion to visit Matang Wildlife Centre, Sarawak's main centre for wildlife rehabilitation. You will have a chance to see dozens of ... Read more
Location: Kuching, Malaysia
Duration: 7 hours (approx.)