1 Reviews
Address:

Ataturk Boulevard, Didim 09270, Turkey

Admission:

Free
Didyma
Modern-day sun lovers worship Didyma's golden beaches, but in classical Ionian times this was the legendary site of the Temple of Apollo.

In its heyday, Didyma's famous temple was the home of the oracle of Apollo, who provided the Hellenic world with divine predictions from the gods. The sanctuary at Didyma was the most significant temple in the territory of the legendary city of Miletus, approached via the Sacred Way. It was renowned for its wealth and sacred spring, a revered site predating the era of the Greeks.

The symbol of Didyma is the beautiful stone heads of the Medusa that crown the temple's Ionic columns. Monumental steps lead to the remains of more than 100 equally huge pillars, two of which are linked by a sole surviving architrave.

Recent excavations have unearthed other temples, including one dedicated to Artemis, destroyed by fire and earthquake over the millennia.

Take a wander around the site and you'll come across innumerable fragments of giant toppled columns and marble shards as you begin to grasp the tremendous scale of the original temple site.
Practical Info
Didyma is now called Didim (previously Yenihisar). It's 73 kilometers (45 miles) south of Kusadasi. Taking a tour from Kusadasi is the best way to visit on a day trip.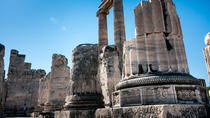 Visit the ruins of Didyma, located at a short distance to the north west of modern Didim in Aydin Province, Turkey. This 7-hour tour Includes a full day guided ... Read more
Location: Kusadasi, Turkey
Duration: 7 hours (approx.)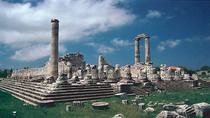 1 Reviews
Discover the ruins of Priene, one of the most active ports of the Lonian Federation. The city is the oldest example of geometric city planning.
Location: Kusadasi, Turkey
Duration: 8 hours 30 minutes (approx.)