Nara Tours from Kyoto
By Viator, June 2015
Nara, situated 26 miles (42 kilometers) outside of Kyoto in Japan's Kansai region, was the country's first permanent capital city. It's easily accessible from Kyoto by either train or bus (trains leave Kyoto twice an hour and the journey to Nara only takes 35 minutes) and it's well worth the effort. Nara has an abundance of UNESCO World Heritage sites, including some of Japan's oldest Buddhist temples, but it's a small and compact place. A half-day or full-day tour is a neat way to absorb some of the great sights.
And oh what sights they are. Nara flourished under Buddhism so remarkable temples abound – including Todai-ji Temple, which was constructed in the 8th century and is one of Japan's most famous and historically significant temples. In its huge precincts are various national treasures of Japan, including the Daibutsu-den (Great Buddha Hall) which is one of the world's largest wooden buildings, and a gigantic bronze statue of Buddha – Japan's largest and a wonder of religious architecture.
For those with an interest in gardens, the Isui-en garden is the best in the city. Beautifully designed with lush greenery and a carp-filled pond, it's a serene place to stop for a cup of tea. Or for those of an artistic nature, the Nara National Museum is dedicated to Buddhist art.
Ancient, colorful Kasuga Shrine is a definite must-see. It shimmers with some 3,000 antique stone and bronze lanterns – the interior is decorated with them and the path leading up to it (which passes through Deer Park) is lined with a thousand stone lanterns.
And speaking of Deer Park, this is a truly unique place – a gorgeous park where over 1,000 tame deer freely roam in 1,250 acres of peaceful greenery. The deer will gladly eat from your hand (you can buy special deer food in the park grounds).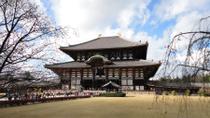 299 Reviews
Explore the cultural treasures of Kyoto and Nara on this full-day tour from Kyoto. In the morning, visit UNESCO World Heritage sites Nijo Castle and ... Read more
Location: Kyoto, Japan
Duration: 10 hours (approx.)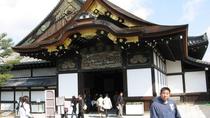 142 Reviews
Venture to Nara from Kyoto for the afternoon. Due to its past as the first permanent capital of Japan, Nara remains full of historic treasures, including some ... Read more
Location: Kyoto, Japan
Duration: 5 hours 30 minutes (approx.)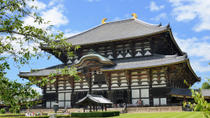 19 Reviews
Venture by bullet train from Tokyo to the historical sites of Nara, and enjoy an overnight stay in Kyoto – the heart of Japanese culture! On this two-day trip, ... Read more
Location: Tokyo, Japan
Duration: 2 days (approx.)