La Paz is the highest capital city found anywhere in the world. It is the center of a nation known as "the Tibet of the Americas". With two-million people constantly in motion, it is the beating heart of an indigenous country still very much connected with its cultural past. A city unlike anywhere in Latin America, it's a metropolis steeped in superlatives and extremes.

La Paz and its surrounding areas offer so many new experiences for travelers that it can be overwhelming and enchanting all in the same blow. With this thought in mind, here is a three-day rundown of how to experience the best that La Paz has to offer.

Day 1: Walk the city streets

While many of the adventures around La Paz require day trips, take some time on your first day to acquaint yourself with the pulse of this frenetic city. Wandering the downtown section off of Calle Sagarnaga, the first thing you may notice is the roadside markets. Colors explode from the hand woven cloths while traditionally dressed women in bowler hats and long skirts waddle down alleyways hawking their wares. Even if you aren't in a buying mood, be sure to check out the Witches Market for a look at authentic remedies ranging from herbs to elixirs to dried llama fetuses. It's a scene which is repulsing and fascinating all at the same time.

After wandering, the markets head down to Plaza Murillo for a look at the neo-classical La Paz Cathedral and some of the best people-watching to be found in the city. Just next door, the National Museum of Art is housed in one of the most stunning colonial palaces remaining in the city, and even if you aren't into art, it's worth the entry fee to simply stand in the courtyard. Those wanting to dig into a bit of cultural history should head over to Calle Jaen where a collection of museums house historical pieces detailing the rise and fall of colonialism in Bolivia and the original people calling this grand plateau home.

Round out your day with a brief tour down to the otherworldly Valle de La Luna on the south side of town, the eroded clay hoodoos and geologic formations illuminated in the late-day sun.

Day 2: Mountain bike on a famous road

Having already scoured much of downtown La Paz it's now time to strap on a helmet, drive nearly 16,000 feet into the sky and take to two wheels for a hair-raising descent down a road known only as the "Death Road". Having earned its nickname for the multiple buses which have gone over the narrow edge, mountain biking down this winding, semi-paved road is a safer activity than the name may imply. Thousands of people every year successfully ride from the high alpine passes, across open cliff faces, behind dramatic waterfalls and end up in lush rainforest outposts to warrant this being one the city's most popular adventures.

Day 3: Visit ancient ruins

Since you managed to make it through "Death Road" without dying, book a day trip out to the ancient ruins of Tiwanuku to learn about mysteries of those who died millennia ago. A 1.5-hour drive from downtown La Paz, this windswept, arid plain was once believed to have housed the capital of an ancient empire. In analyzing the ruins at Tiwanuku many archeologists believe that ancient peoples inhabited this city since at least 1,500 BC - although numerous scholars believe it could actually be much earlier. Given the academic knowledge needed to properly understanding the ruins, it's best to either go with a group or hire a knowledgeable guide.

Excursions to Tiwanuku, like to Death Road, can easily be booked from downtown La Paz.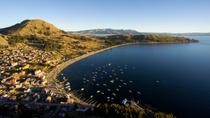 8 Reviews
Discover the beauty of Lake Titicaca, Copacabana and Sun Island on this full-day tour from La Paz with a private guide. After hotel pickup, enjoy the company ... Read more
Location: La Paz, Bolivia
Duration: 12 hours (approx.)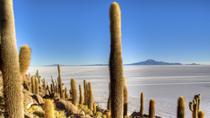 3 Reviews
Embark on a private, guided full-day tour to the renowned Salar de Uyuni, the largest salt flats in the world. You'll be picked up at your hotel in downtown La ... Read more
Location: La Paz, Bolivia
Duration: 12 hours (approx.)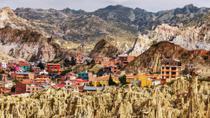 9 Reviews
See the best of La Paz on a private tour with a knowledgeable local guide, who will introduce you to both top attractions and lesser-known sites, creating a ... Read more
Location: La Paz, Bolivia
Duration: 3 hours (approx.)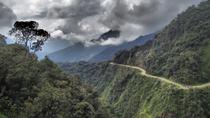 16 Reviews
Fly down the 'world's most dangerous road' on this thrilling mountain-biking adventure! Leave from a high-altitude plain near La Paz, and follow expert guides ... Read more
Location: La Paz, Bolivia
Duration: 13 hours 30 minutes (approx.)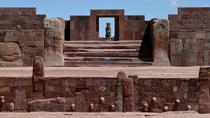 5 Reviews
Visit the World Heritage-listed archeological ruins of Tiwanaku, near the shores of Lake Titicaca, on this private half-day tour from La Paz. With a ... Read more
Location: La Paz, Bolivia
Duration: 4 hours (approx.)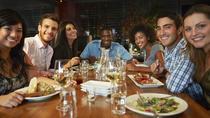 7 Reviews
Spend an evening exploring La Paz's foodie culture on foot, eating at authentic restaurants, drinking local beer and making yourself a cocktail. Your local ... Read more
Location: La Paz, Bolivia
Duration: 3 hours 30 minutes (approx.)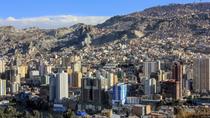 2 Reviews
Discover La Paz on a city tour with an expert local guide who explains Bolivian culture and history as you take in local markets, colonial architecture and ... Read more
Location: La Paz, Bolivia
Duration: 3-4 hours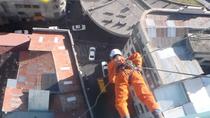 2 Reviews
Play out your superhero dreams: Dress up as Spiderman and jump out of a 17th-floor window of a building in downtown La Paz! This rappelling adventure is the ... Read more
Location: La Paz, Bolivia
Duration: 60 minutes (approx.)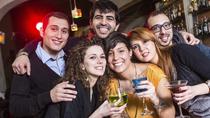 Spend 5 fun hours drinking and chatting in La Paz's best pubs. An expert tour guide who knows the city's pub scene well leads you on a tour through the ... Read more
Location: La Paz, Bolivia
Duration: 5 hours (approx.)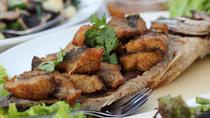 Discover the flavors of Bolivia on this La Paz culinary tour packed with mouthwatering dishes, sweet treats and tasty snacks. Taste classic soups and fish ... Read more
Location: La Paz, Bolivia
Duration: 3 hours 30 minutes (approx.)